For as long as I can remember I have always been enamored by the idea of controlling things with my phone. It just amazes me that you can use your phone for just about everything now! Heck, my new phone can even control my TV! In this house music is key. We all listen to music, but with two little ones running around sometimes portable speakers are not an option. Only because they tend to run around with them and dance while holding them. Of course it is super cute, but I would feel horrible if they dropped them. When I heard of Pulse by Sengled I knew I HAD to have them and I was ecstatic when they told me I could review them!
It was a war in my house when they arrived. Everyone was fighting about which room they would go in and who would get to use them first. You see, these are no ordinary speakers. Not only are they bluetooth enabled, but they are light bulbs! Yes, you heard right. Speakers and light bulbs in one sleek device!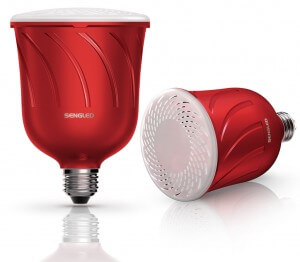 The Pulse speakers are pretty big, however they do fit in most regular light fixtures. The only issue I had was when I was putting them into fixtures that did not have enough room for them to fit. Most of the lights in our house are pretty strange as we live in an older house that could probably use some updating, but luckily I think Sengled had this in mind when they offered the bulbs in colors! I chose red as almost everything in my house is red. So we were able to take the covers off of any fixtures that the bulbs didn't have quite enough room in order to make them fit.
You would think setting up the bulbs would be difficult, but I couldn't believe how easy it really was! You don't need any cords or any special software, which is awesome! They get their power from the socket itself. However, you do need an app on your phone to connect to the bulbs speakers, but the set up is about the same as a bluetooth headset. You plug the bulbs into whatever socket you want them in, download the app, connect the bulbs through bluetooth and follow the app instructions.
Not only is the setup easy peasy, but using them is very easy as well! Once you have them connected to your device you just open the app and go. Of course your light switch will have to be on in order to give it power, so make sure it is on before trying to use the app. What I find to be really awesome is that not only can you adjust the volume on the app, but you can also dim the lights! You can even turn on and off each of the speakers!
One of my favorite features of these bulbs is that when the app is off, they do function like your typical LED bulb. You can turn the light on and off by using the switch. I was really happy about this (and worried before I tested it) that I don't need to break out the app just to turn on the light. If my kids are playing on my phone I don't want to be stuck without light, that and pulling out the app just to turn on the lights would make things a little time consuming. I am very glad that they made sure that the bulbs can work without it.
We are very happy with Pulse by Sengled! I think everyone should have at least one set in their home! You can find Sengled on their website here, or check them out on Facebook and Twitter.
**Disclaimer** Star Focal received samples of the above product in order to facilitate a review. However, we were in no way paid, or obligated to give a positive review, or a review at all for this company. If you would like to read my full disclaimer for reviews you can find it here .