If you're building up a collection of watches, it can be difficult to decide which watch to buy next. Many people love owning multiple timepieces; one for casual wear, one for going out, one for business – you name it, there's a watch suited to the occasion! But just how are you supposed to choose which watch to buy next when there's so much choice out there? Read on for help making this tough decision: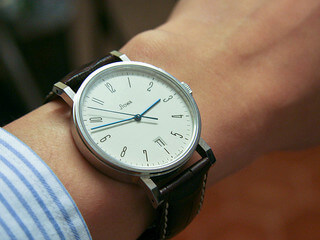 Consider the Occasion
The first thing to do when buying a new watch is to consider the occasion. Are you buying this watch for any particular reason? Is it a party? A posh meal? A business meeting? This should help you to narrow down your choices and separate the casual/trendy watches from the more professional pieces. If it's not for any particular occasion, skip this step.
Look at Your Current Collection
Take a long hard look at your current watch collection. What is it missing? Is there something you feel you need? Perhaps you've got plenty of business watches but you'd like a more casual piece for everyday wear. Or maybe you fancy a digital watch for a change. Think of the features your current watches have and whether there's anything missing. You may want one that's completely different to anything you currently own. You might want a different shape, colour, pattern – try to be diverse with your choices, otherwise there's no point in owning multiple pieces!
Consider the Theme
Instead of buying a diverse watch so you have a variety to choose from, you could keep a running theme with your watch collection. However, it may seem nonsensical to have a bunch of watches that aren't too different from one another. For example, you may solely want to own black watches. You could try a Detroit watch company to get different ideas.
Research the Brands
If you've found a couple of brands you like, research them. I always enjoy finding out a bit about the brands I'm buying into. Their history might seal the deal for you when you realise that they're a family run company who specialises in making leather watches, for example. You'll also find out a bit about their company values and how they grew to be what they are today.
Read Reviews
If you have a particular watch model in mind, read reviews online to make sure that it's all it's cracked up to be.
Ask for a Second Opinion
A second opinion can be a great help when hunting for your next watch. Somebody you trust may be able to tell you what watch they think suits you most. You don't have to agree with them, but at least if you don't agree with them, you realise which watch you really want!
Consider Your Budget
Of course you should always have a budget when watch shopping. It's far too easy to spend more than you wanted, so give yourself a budget and stick to it.
I hope I helped you to narrow down your options!