We're back with another great Manicure Monday post. This time we are sharing our Holiday nail design using Sally Hansen Gel Polish and Elegant Touch Nails Nail Art.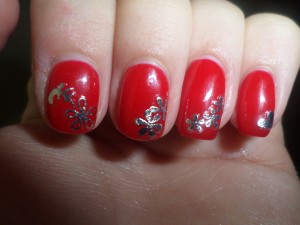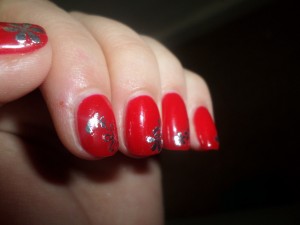 For this manicure I used Sally Hansen's Gel Polish in Red My Lips and topped it off with some nail decals from Elegant Touch Nails. I loved the way they turned out. Of course I am always a sucker for gel nails but I loved that the color was so bright and that the decals stayed put. After putting on the decals I followed them with Sally Hansen's Triple Shine Top Coat which really made them sparkle.
I got tons of compliments on my nails at our Christmas party and I had so much fun showing them off! You can never go wrong with a gel manicure because they last a lot longer than traditional nail polish and never seem to dull. They are also way easier and cheaper than acrylics and you can do them in your own home. Sally Hansen has become one of my go-to gel polish companies and they have tons of great colors for everyone!
You can find Sally Hansen and their wonderful products on their website here and you can find Elegant Touch Nail's products here.
**Disclaimer** Star Focal received samples of the above product in order to facilitate a review. However, we were in no way paid, or obligated to give a positive review, or a review at all for this company. If you would like to read my full disclaimer for reviews you can find it here.