I love finding new recipes, especially when searching the web. Of course I could go look in an old fashion cook book, but I find the internet so much easier. So what if you could have the best of both worlds? This is why I was so excited to review the Key Ingredient Recipe Reader!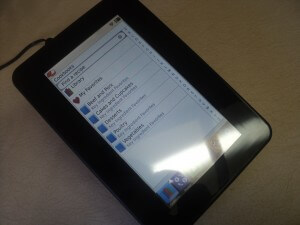 My parents run a Senior Care Home and I swear my dad is always cooking. While it is always nice to steal some food, I have noticed that there are always multiple cookbooks laying on the counters. I decided that he would be the best person to test out the recipe reader, so I gave it to him as an early Christmas present. Of course I did tinker around with it before I handed it over!

The Key Ingredient Recipe Reader is great because it can hold all of you favorite recipes and you can access them by touching the screen. You can also easily search through your favorites easily with the search bar. You can take these recipes and organize them, or you can even add them to your meal planner!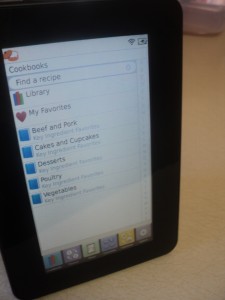 It is also spill proof. I cannot tell you how many times I have spilled food or worse on my phone or computer while trying to use a recipe! with this tablet you can wipe off spills with a washcloth and not worry about ruining your device. Of course you shouldn't give it a bath, but spills are no match for this tablet! It also has a built in stand so that you can have it sit at the perfect angle so that you can see it while you cook.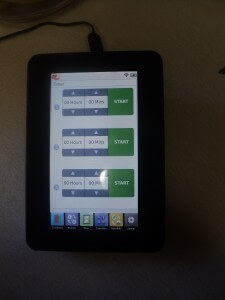 This tablet has tons of great features just for cooks! There is a timer feature which has 3 separate timers. So you don't have to rely on your oven timer to cook more than one thing. It also has a substitution list so if you don't have a certain ingredient you can find something to put in place of it quickly and easily. It also has an easy to use converter that really helps while cooking. Especially if you need to change the recipe to fit your family size. I know we have to do this all the time and I never know how to divide the ingredients easily.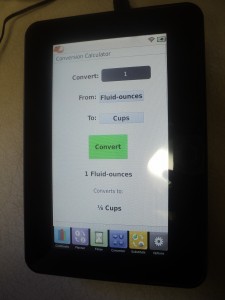 My dad loved using all the features, especially all the recipes! We only had a few things we didn't love. One thing that bugged me more than him was that the tablet does not tell you when it's charging. Most devices will at least have a little red light that turns on when it is plugged in. Of course this is just one of my pet peeves and he didn't really care. The thing he didn't like was that in order to add more recipes you have to either go on the computer or on your phone with their app, find what you like and sync it to the tablet. However, it does come pre-loaded with TONS of recipes and he hasn't had the need to go online to find more.
We both really enjoyed this tablet and I think it looks a lot better on his counter than dozens of cookbooks. So I would say that it was a win-win. Especially since I clean their house and don't know what to do with them all! I think this is a perfect gift for any cook that loves finding new recipes without destroying their phone or computer in the process.
You can find Key Ingredient on their website here, or follow them on Facebook or Twitter.
Stay tuned for a giveaway of the Recipe Reader in our Holiday Gift Guide!