We are back with another review of
ENJOY Hair Care
products! I have been in love with ENJOY since I started this blog and will always love the way my hair looks and feels with these products! This time we were able to snag their Hydrating Trio to review!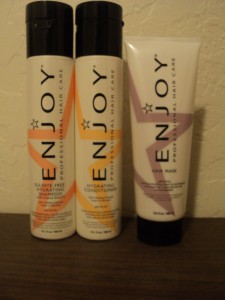 ENJOY Hair Care offers products that are sulfate-free and are pH balanced to keep your hair healthy and looking great! The balanced pH levels help keep your hair color in place and helps keep you hair soft instead of dry and brittle.
About the Hydrating Trio
Perfect for dry, coarse, curly or chemically treated strands,
ENJOY Sulfate-Free Hydrating Shampoo
creates unbelievably smooth and silky hair. It eliminates frizz, moisturizes and detangles with no product build up. Gentle cleansers combined with a pH 4.5-5.5 guarantees long-lasting hair color. Like all ENJOY products, it's proudly sulfate-free.ENJOY Sulfate-Free Hydrating Shampoo contains soy protein, which smoothes and hydrates the cuticle. Dimethicone adds smoothness and shine and avocado oil soothes the hair shaft, locks in moisture, lubricates and helps detangle hair.Follow up with
ENJOY Hydrating Conditioner
, which will give your hair the moisture and conditioning it craves. Color safe for all hair types, it creates smoothness, softness and shine. Designed to hydrate coarse, curly or overly dry hair, it also detangles and eliminates frizz.
ENJOY Hydrating Conditioner
contains wheat Amino Acids, which attracts and locks in moisture to the hair shaft while Hydrolyzed Soy protein acts as a smoothing and moisturizing agent. Avocado oil smoothes hair locks in the moisture and works as a natural detangler.
For an intensive treatment, ENJOY Hair Mask is designed expressly for enriching and smoothing dry and unruly hair. Keratin Amino Acids (90-150mw) naturally repair and strengthen hair, adding elasticity. With a pH 4.5-5.5 ENJOY Hair Mask adds strength to the surface of hair, smoothing the cuticle without building up, leaving hair feeling incredibly soft, silky and easy to manage.
What I thought
I love ENJOY Hair Care and the Hydrating Trio was no different. The shampoo and conditioner help make my hair soft and healthy. I love the leave in conditioner! My hair gets very dry easily and it's hard to keep it from falling apart, especially in the cold weather.
Not only does ENJOY work great, but it smells great too! It is one of my favorites when it comes to scent. When I first started using these products I would have people come up to me and ask me what shampoo and conditioner I used so that they can smell it at home!
There are so many reasons to love ENJOY! They have tons of great products and you are bound to find something for your hair type and styling needs!
Be sure to check them out on their website
here
, or visit their Facebook
here
, or their Twitter
here
.
Be sure to enter to win the Hydrating Trio from our Holiday Gift Guide giveaway below!
**Disclaimer** Star Focal received samples of the above product in order to facilitate a review. However, we were in no way paid, or obligated to give a positive review, or a review at all for this company. If you would like to read my full disclaimer for reviews you can find it
here
.