Nothing is better than getting a gift box for the Holidays. Especially when that gift box is full of either coffee or chocolate! I was so excited when I found out that I was getting to review a basket from California Delicious! I love coffee so of course I went with one of their Starbucks Gift Baskets!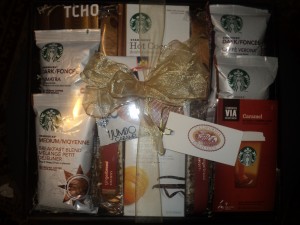 This box was perfect! It had all of my Starbucks favorites inside, along with a few new goodies that I couldn't wait to try. This Starbucks Coffee Grand Gift Box includes:
4- varieties of Starbucks coffees
1-box Tazo tea
1-box Starbucks hot cocoa
4-Nonni biscotti
2- Dahlmans waffle cookies
1-box VIA instant coffee
2-TCHO chocolate bars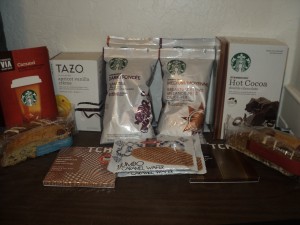 It came packages perfect for a gift and was even the perfect shape for wrapping. I hate trying to wrap awkward shaped gifts, it just never turns out well for me. So the fact that this box was a good shape was just a huge plus for me! Nothing is worse than giving someone a horribly wrapped gift!
About California Delicious
When you think of California, you think of bountiful fresh produce, delicious foods and fine wines. California has always been a gourmet food and premier wine destination, and California Delicious brings it all to you. Our dedicated staff has been working together for over twenty years in the San Francisco Bay Area to bring you the best quality and service possible. Since 1987, we have been delivering California gourmet selections in spectacular gift baskets and celebration packages.
What we thought
As soon as I got the package everyone in the family was breaking into it picking out their favorite items. Before I knew it, the box was gone except for the coffee which of course was just for me! Everything inside was amazing and I was quite surprised with the things I had never tried before. I have never tried Waffle cookies before but they were amazing and even my girls loved them!
Not only did I love the box, but I loved the company as well. They are based in San Francisco which is not that far from me and I visit there quite often, so when I saw this company I knew I had to have a box from them. They have tons of options to choose from and you are sure to find a box perfect for your needs.
Be sure to check them out on their website here, or find them on Facebook and Twitter.
**Disclaimer** Star Focal received samples of the above product in order to facilitate a review. However, we were in no way paid, or obligated to give a positive review, or a review at all for this company. If you would like to read my full disclaimer for reviews you can find it here.