Our family is pretty redneck. Of course we are not full on redneck with strange accents and we have all of our teeth, well most of us anyway. So when I saw Bullet Designs, I knew that they would make perfect gifts for our family. I was so excited when I heard I was getting to review some of their awesome products!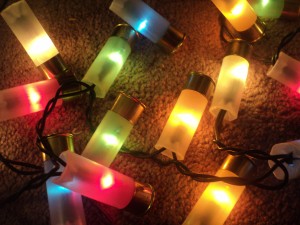 First I will start off with the Shotgun Christmas Multi-Color lights! I love these lights! They are very unique and very bright! They come with 20 clear shotgun shells on multicolored electric lights. They are great to put on a Christmas tree, or really anywhere! They are super fun and definitely a conversation starter! You can even get the lights on a string of 35 or even 100 lights if you special order them! Every time we tell someone in the family that we got these they are super jealous and ask, "wheres's mine?." We can't wait to hang these in the house for the holidays!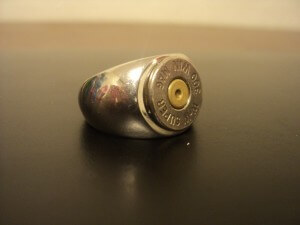 Next up is their Men's Stainless Steel and Brass Ring. Of course the hubby wanted nickel instead, so that's what we got!

Bullet Designs wants to make you happy and if you want something a little different I have no doubt that they will work with you to get the perfect product! At first, I think I was more excited then my husband was about it. That changed when we got it! He loves it and is extremely happy about all of the complements he gets!
About Bullet Design Rings
Bullet Rings are so unique! Made with Authentic Recycled (Fired) Bullet Heads and adjustable ring bases. Fits any size! All of our bullet products are harmless – no live ammunition or gun powder. Made in USA.
What We Thought
I honestly could not believe how soft the ring was! Not only was it beautiful, but it fit him perfectly and he said it was the most comfortable ring he has worn. I will let you in on a little secret though! The main reason I contacted Bullet Designs is that my Hubby did not have a wedding ring. Of course he had one when we got married, but after a while he complained about it not being comfortable and one day he "lost" it. I knew that he would love Bullet Designs and decided it would be worth a shot to get him to wear a ring again.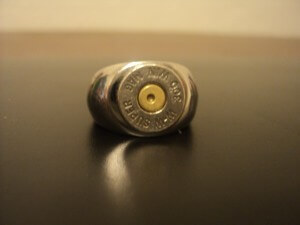 Since getting this ring, not only has he kept it on and not complained, but he has been showing it off too! Everyday when he gets home from work he tells me a story about someone that complimented him on it or asked where he got it from. Everyone seems to love it! I am so happy that he has a great ring that he loves and I cannot thank Bullet Designs enough!
If you are in the market for unique jewelry for anyone in your family, or if you are like me and looking for something your husband will be proud to wear, I highly suggest checking out Bullet Designs on their website here as well as their Facebook and Twitter. They have a lot of great products and you are sure to find the perfect gift for the one you love!
**Disclaimer** Star Focal received samples of the above product in order to facilitate a review. However, we were in no way paid, or obligated to give a positive review, or a review at all for this company. If you would like to read my full disclaimer for reviews you can find it here.