Everyone knows I love bright colors and that my house is accented with mostly red. We haven't had our own Christmas tree since the girls were born so I was very excited when I was told we would be getting a Rose Red Christmas tree from Treetopia to review.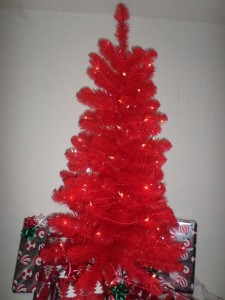 About Treetopia
Here at Treetopia™, we offer the widest selection of colorful and camera-worthy Christmas trees. In fact, our trees have been seen on the sets of some of your favorite shows, like Good Morning America, and have caught the attention of celebrities like Rachael Ray. Just because we give our customers a product that is fun doesn't mean we skimp on quality. Every tree, from our Pretty in Pink Tree to our Silver Stardust Tree, is made from the finest materials around. We even offer a 5-year warranty on all non-clearance foliage, and a 2-year warranty on lights. Forget the cheap, colorful junk of Christmases past; purchasing a Treetopia tree is an investment in many chic holidays to come.
And don't think the only holiday we're talking about is Christmas. From Halloween to Easter and any self-proclaimed holiday or celebration in between, we have you covered. Our premium colorful Christmas trees are sure to delight and impress guests with their high-quality, vibrant hues. Don't worry—we also have an impressive selection of good ol' fashioned green artificial Christmas trees when only that classic look will do. So, whether it's a sassy, classy, sweet, or funky tree you're looking for, you've come to the right place.
What we thought
I loved having a unique Christmas Tree that was definitely a conversation starter. It was very easy to set up as they sent it whole instead of in a million pieces. So all you had to do was take it out of the box, fluff the branches, and plug it in! In our house simplicity is hard to come by during the holidays so I will take any help I can get!
Treetopia offers many different trees in different sizes shapes and colors. They have just about any color you can think of and many different types of trees, even palm trees! You can find the perfect tree for your house from Treetopia and right now they have tons of sales so you can stock up for next year! Be sure to check them out on their website here and follow them on Facebook and Twitter.
**Disclaimer** Star Focal received samples of the above product in order to facilitate a review. However, we were in no way paid, or obligated to give a positive review, or a review at all for this company. If you would like to read my full disclaimer for reviews you can find it here.