I am very fortunate to have two little girls that LOVE to take baths. The downside to this is that it is hard to find products that they can use in the bath that won't irritate their delicate skin. We tried using the cheap drugstore brands, but after rashes, dry skin, and other problems we needed to find something that kept them clean and not irritated. When I was told I was getting items to share a Sebamed Baby review with you, I knew that not only would I be happy but that my girls would too.
About Sebamed
Ideal for little ones' delicate skin, Sebamed is the leader dermatologist-developed skin care with more than 30 years of research and reputation in creating effective, scientific and pH balanced products that parents love and kids actually like to use! Made especially for sensitive and problematic skin (including those who suffer from baby acne, eczema and Rosacea) all Sebamed formulas are hypoallergenic and tear, soap and alkali free. The below products are gluten free as well.
What we thought
My oldest daughter was very excited when she found out we were getting these products. She loves anything to do with the bath and she is always stealing my lotion. Sure she has her own, but she likes the containers that mine are in. We got their Baby Gift Package which came with everything we needed to have a great bath!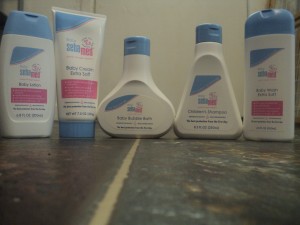 This set comes with Sebamed's Extra Soft Baby Wash, Shampoo, Baby Lotion, Extra Soft Baby Cream, and of course Bubble Bath.
The Children's shampoo worked great! It made their hair super soft and much easier to brush. Our youngest hates her hair being touched, so it is already a task to brush her hair. After using this shampoo it takes less time and is less painful which makes it easier on both of us! It doesn't smell at all like regular kid's shampoo, but the girls don't seem to mind.
We don't always use lotion on the girls. Mainly because they normally are too greasy and our youngest is very sensitive about being touched or rubbed unless she is in a lovely mood. Our oldest loves that she gets to put it on after her bath. Neither one of our girls got my dry skin so we got lucky, but I'm glad that we have this for the upcoming winter months!
One of my daughters favorite parts of this kit is the Baby Cream. As I said earlier she loves using mommies lotion and this is in a container very similar. She feels extra special using it and we have even convinced Little A to start using it! It's definitely something that we use to keep them calm throughout the day.
Another thing that keeps their skin soft is the Baby Wash. I love that it is separate from the shampoo. A lot of companies try to mix the two and they never work the same. This wash not only keeps them clean, but it helps keep their skin healthy too!
Last but most certainly not least, the girls favorite part of this set is the Bubble Bath. I was pretty surprised at how many bubbles it created and how long they lasted in the bath. The girls were very excited about the bubbles and it made bath time that much better!
I love that these products are not only great for their skin, but that they work great too! I love this set and I think that anyone with babies or kids should have it! You can find Sebamed on their website here.
**Disclaimer** I was in no way paid, or obligated to give a positive review, or a review at all for this company. If you would like to read my full disclaimer for reviews you can find it here.