When allergy or cold season come around I always feel so bad for my little ones! Not only are their poor little noses already irritated by the cold but their constant runny nose makes it worse! After wiping and wiping their noses get worse and will start to crack and bleed from all the wiping. It is absolutely horrible! This last allergy season it got so bad that we decided to try other options, one of which was Boogie Wipes.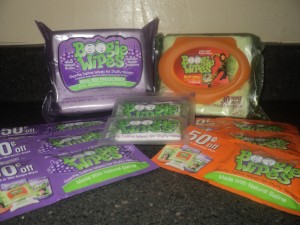 Boogie Wipes are saline wipes with added vitamin E and Aloe to help break away boogers and sooth your child's nose. They also come in scents like: Fresh, Grape, Menthol, Uncented, and Boogieberry. I received Grape and Fresh Scent to review. I think my favorite of the two is the Fresh Scent and my girls love Grape! The Grape is a little too overwhelming for me, but they love it and that's all that matters.
Before trying out Boogie Wipes I thought that they would be horrible. I didn't understand why you would need an extra thing of wipes just for your kids noses. What I didn't know was how bad my girls noses could actually get! I always thought that the redness came from the boogers themselves and not the tissues or wipes that they were using. After reviewing this product I noticed my girls noses were no longer cracking but were actually staying clean and non irritated! As a mom of two toddlers this was a huge relief for me and their little noses! The package isn't huge either so it's easy to carry with you and doesn't take up much room in the diaper bag.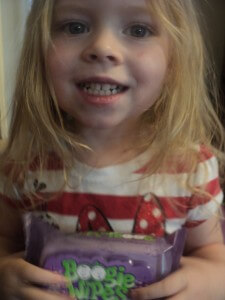 My daughter LOVES these wipes and they are the main reason she wipes her nose herself. She knows that they are wipes just for her boogers and asks for them by name. We make sure that there is always a package around no matter what time of year it is! They are inexpensive and work better than any other product I have tried!
Boogie Wipes also come in different sizes like a 90 count canister, 45 count packs (the pictures above), a 30 pack, 10 pack, and they even have a teachers kit! Right now if you buy Boogie Wipes and go to their website here you can get a $3 rebate for the movie Epic. Be sure to give them a try to save your kiddos noses!
Giveaway!
**Disclaimer** I was in no way paid, or obligated to give a positive review, or a review at all for this company. If you would like to read my full disclaimer for reviews you can find it here.