Halloween is quickly approaching and now is the time to start thinking about what you are going to wear this Halloween. For kids it is okay if their friends are wearing the same costume, but for adults seeing someone that has the same costume can ruin your night. Especially if you thought that your costume was unique. We got a great costume from 80s Tees to review for you!
80s Tees has a selection of costumes that are unique to them! So if you are looking for Unique Costumes you may want to check them out! We got their Bubble Wrap Zoltan Costume to review! As soon as I saw it I knew that it would be something that the hubby would love to wear this year!
If you have seen the movie "Dude, Where's My Car?" you will know what this costume is. If not, this costume is from the cult in the movie made up of a bunch of nerds wanting to go to space and meet a bunch of Aliens. If you have never seen the movie I highly recommend you do. It used to be one of my favorites! Anyway, all of the members of the group of nerds is let by Zoltan and they all wear this bubble wrap suit. Of course Ashton Kutcher and Seann William Scott end up wearing these suits and run around popping everyone's bubbles. I always wondered if anyone sold those suits just for fun, so when I saw this we had to have it!
The picture above made me believe that it came with the black jumpsuit for underneath but when the package arrived there was only the bubble wrap costume. I was a little disappointed, but nothing a black shirt and some black shorts can't fix. When we got the costume we could only find a grey shirt so we went with it anyway.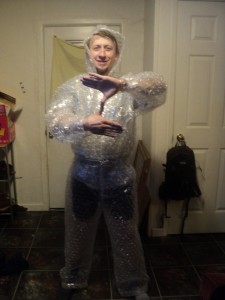 Of course hubby went nuts and ran around the house acting like he was Zoltan, but it was still fun. The costume itself is literally bubble wrap with extras added on for comfort and I would imagine to make it more authentic, but if you want something that won't pop this is not for you. My only problem with this costume is that I wish it was reinforces somehow as he popped it several times just getting in and out of it. It will definitely be a hit on Halloween though and I know I personally have never seen anything like it.
You can find this and other great unique costumes on their website here.
**Disclaimer** I was in no way paid, or obligated to give a positive review, or a review at all for this company. If you would like to read my full disclaimer for reviews you can find it here.