Potty training can be hard! Too much change in a little amount of time can sometimes make your child not want to do something that you want them to. For my daughter, one thing she loves and does not want to get rid of for the potty is wipes. Which is why I am very excited to review Pampers Kandoo Wipes for you!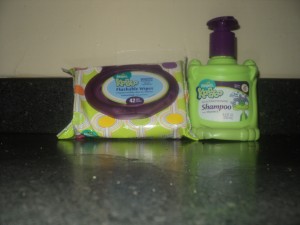 So why are Kandoo wipes better than toilet paper? Kandoo wipes are easy to use, are the size of about 2 pieces of toilet paper making it perfect for little hands, are moistened with lotion, and are flushable which is great! Another thing that I find great about this product is that my daughter knows that they are just for her when she goes potty, it makes her feel special that she gets her own wipes for the bathroom that no one else gets to use. Also, every so often she will unravel a whole roll of toilet paper, with Kandoo wipes she only pulls out one at a time so there is not as much waste which makes mommy happy!
Kandoo wipes come in two different styles: Sensitive (unscented) and Melon.They are both available in Soft Packs, Tubs and Refill packs. We received the Soft Pack but I have used the tub before and it is basically a mini version of diaper wipe containers, which is great!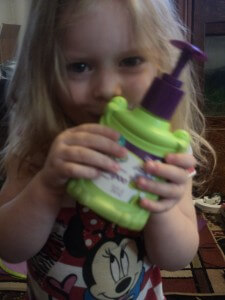 We also received a bottle of Kandoo Shampoo! The shampoo comes in the cutest little frog bottle! My daughter knew immediately that it was for her and wanted to take a bath ASAP! I opened the bottle so see if it smelled good (I am obsessed with scents) and to my surprise it smelled amazing. The scent is in between what I would expect from a child's shampoo and what I would expect from my own shampoo. So it makes us both happy!
I was very surprised at how well it cleaned my girls hair! They both tend to get a lot of sticky stuff and who knows what else in their hair and Kandoo got it all out! It was a nice change considering I have to wash their hair several times with other brands to get the gunk out.
Kandoo offers a lot of different products like Bubble Bath, Hand Sanitizer and so much more! They carry just about everything you need for your little ones and they have great prices too! Be sure to check them out here, or find a retailer near you!
Giveaway!
**Disclaimer** I was in no way paid, or obligated to give a positive review, or a review at all for this company. If you would like to read my full disclaimer for reviews you can find it here.