I love my two year old! But what I do not love is that she loves the magnets on our fridge, and loves to destroy them! So I went on a search to find magnets that were not only fun for her, but would help her learn. What I found is a really awesome magnet set from My-Word-Magnets.

I received their Magnet Super Bundle to review for you guys. The great part about their bundles is that you can personalize the kit by choosing your own words to add to the already huge selection of included words. I was able to get magnets for all my daughters favorite people and things, as well as one for Star Focal of course!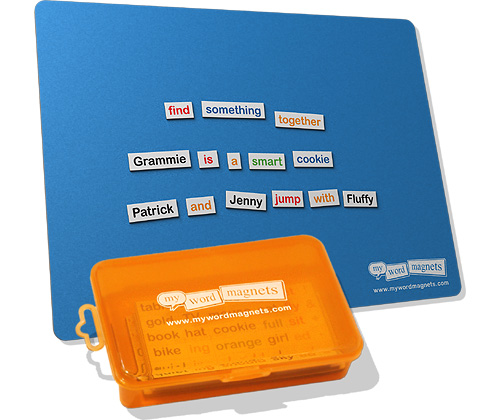 The kit I received had the option to add 15 words of my choosing. I thought that it would be no problem choosing that many words, but I was wrong. After sitting in front of the computer for what seemed like hours I noticed a little wizard on the page named Wendell. Wendell was a life saver! Wendell will ask you questions to help you come up with ideas of words to add to your list. After finding Wendell it took only a couple of minutes to add the last of my words, and I was ready to receive my kit!
I love that this bundle comes with so many magnets! My daughter can play with these for hours and never get bored. Some of the magnets are even color coded and have different colors for nouns, verbs and more. The set also comes with number and symbols so they have everything they need to create their own sentences, or even solve math problems! 
The magnets come in sheets, and you get to take them apart. For some kids this could just add to the fun, or for some parents it could just mean more work to do. I just wish that I had looked at all the words carefully before shoving them in the box, but with an excited two year old begging to play I couldn't really wait. One word that I wish it had was "love." I'm not sure if it was just missing out of my kit for some reason or if it doesn't come in any of the kits, but if you plan to order one make sure to add it to your list of words!
The Super Bundle also comes with their Super Safety Board, which is great because my girls don't have to use our fridge to play with the magnets. I was very surprised about how sturdy the board was and how easy it is to play with. My girls can now play with their magnets and mommy can have her fridge space back!
My girls really loved to play with this set. Sure they can't quite come up with their own sentences, but they still had a lot of fun. My two year old was even able to recognize some of the words, which was really awesome! You can get your own set this month (December) at 20% off with the following code: "STARXMAS12″ Just enter it in where it says Discount Code at checkout to get your discount! You can find their website here.
Happy Holidays!
**Disclaimer** Star Focal was in no way paid, or obligated to give a positive review, or a review at all for this company. If you would like to read our full disclaimer for reviews you can find it here .