It is very hard to find great clothing that not only fits your style and also fits your budget. I recently came across a company called MyeSoul that not only sells high quality clothing that you can customize, but also has great prices!
About MyeSoul
Low Prices, Great Deals!
Why pay more when you can pay less? That's our motto. And let's face it, everyone loves to find a bargain. MyeSoul.com offers not only "The Lowest Prices on Earth", backed by our Low Price Guarantee on millions of new and cool products, but also some of the hottest deals you'll find anywhere on items that you just can't live without.

Bigger Selection, Better Buying!
You want it? We've got it! In order to provide the most hassle-free shopping experience online, we are constantly working with our suppliers to add new products so you have plenty of options from which to choose. But sometimes having options just isn't enough and that's why we work with our distributors every day of the week to ensure that all the hottest products are in stock and available for shipping.

Customer Service!
It's no surprise that MyeSoul.com has become the Internet destination of choice. We know that the secret to running a successful business is keeping our customers happy.Click here to check out our term of use.
My Thoughts
I received MyeSoul's Crossing Guard Cover The Bellyn One Piece Bikini to review for you. When I first got the swimsuit I was a little confused about how to put it on. I had forgotten which swimsuit I ordered as I had a couple in mind that were pretty cute. After I looked up which one I ordered it was a lot easier! I won't lie, I felt like a complete idiot just staring at the thing trying to figure out what exactly I was going to do with it!
This swimsuit can be worn two ways which is pretty cool. After having my girls, I have not been able to wear a two piece swimsuit. I hate that if I go to the store looking for a swimsuit all I can find are swimsuits that my grandma would wear. Sure they have their good points like comfort, coverage, large breast area but they are just plain not my style! That's why I love MyeSoul. Not only do they have current styles that you can find in other stores, but they also make the items in different colors to fit your personality.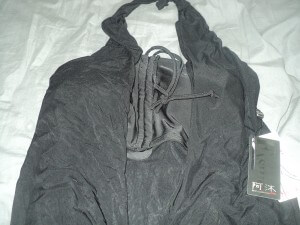 You can find so many options at MyeSoul, I highly recommend their products and I'm sure you will find something you will love! Check out their website here.
**Disclaimer** I was in no way paid, or obligated to give a positive review, or a review at all for this company. If you would like to read my full disclaimer for reviews you can find it here.