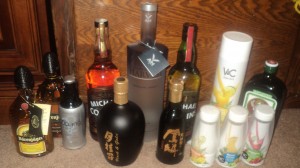 What's better than presents for the Holidays? Having a great Holiday Party! We received samples of these products to review for our Gift Guide and our Holiday Party and they were a huge hit at our house!
More about these products!
What to buy the alpha male? Jägermeister, which translates to "master hunter," is made from a secret recipe of 56 premium ingredients from around the world. This herbal liquor was developed for and dedicated to hunters that have strong bonds with one another, as authentic as the history and heritage of the brand itself. Today, Jägermeister is the #1 selling imported liqueur in the United States and one of the top shot brands in the world. SRP for 750ml- $24.99 And for the man with the home bar? Raise the bar with the iconic Jagermeister Tap Machine http://www.tapmachineinc.com SRP $299.00
Jägermeister has always been a huge hit at out house and we drink it all the time. Our whole family loves it and it is a huge hit at parties!
· Go green this holiday season. The company who created Grey Goose Vodka is at it again.. American Harvest Organic Spirit is an American made, organic vodka made from a proprietary blend of organic vodka and organic ingredients resulting in a distinctly smooth and silky spirit with a crisp, clean taste. Handcrafted in small batches from organic winter wheat grown on a family owned and sustainably managed American farm, American Harvest is distilled and bottled in Rigby, Idaho using water from aquifers deep beneath the Snake River plain. American Harvest has been developed with great care for the quality, organic nature and sustainable growing practices of all of its ingredients. It has no artificial additives or preservatives and is produced with a continuous column distillation process and charcoal filtration to ensure the integrity and purity of the spirit. The American Harvest Distillery is USDA Certified Organic by Oregon Tilth. SRP for 750ml – $23.99.
I liked American Harvest a lot! I love that it was organic too! It is definitely a go-to drink for all the green-only party go-ers!
· Looking for the perfect gift for the whiskey aficionado? Show them what real Irish Whiskey tastes like and wrap up a bottle (or two) of the award-winning double distilled single malt and blended whiskeys named for the Irish legendary hero. Michael Collins 10 Year Old Single Malt is double distilled (for more character) in small, long-necked copper pot stills, from both malted barley and peated malted barley and matured in small bourbon seasoned casks for a minimum of ten years. Clean and smooth, the medium to dry finish has a lingering light smokiness. SRP for 750ml- $39.99. A refined blend of malt Irish whiskey and grain Irish whiskey, Michael Collins Blended Irish Whiskey is double distilled for proper balance of purity and character, and then matured in bourbon seasoned casks from four to twelve years. SRP for 750ml- $28.99
Before this product we liked whiskey, but it was not one of our favorites. Michael Collins has made it to our favorites list! This was one of the items that was gone first!
· Need a gift for your Honey? Want to talk about the Bears and the Bees? Bärenjäger Honey Liqueur – the original honey liqueur, is a 70 proof honey liqueur made from neutral grain alcohol and 300 grams (per liter bottle) of pure premium natural honey. During the 15th century, the Eastern Prussian bear trap company, Teucke & König, first introduced Bärenjäger, which translates to "Bear Hunter." In an effort to end the struggle between man and bear, this sweet concoction was the first professionally produced Meschkinnes – mead-like moonshine made from honey by beekeepers and farmers – and was formulated to aid hunters attract bears and lure them from their dwellings. The alluring spirit's recipe was slightly altered in the 18th century and continues to serve as the original honey liqueur enjoyed around the world today. SRP for 750ml – $27.99.
I had never heard of this brand before and I was truly amazed! It was amazing and tasted like actual honey! We could not believe it. This was one of my personal favorites!
· Your honey have a love for Bourbon? Give the gift of the newly introduced Bärenjäger Honey & Bourbon – a delicious blend of premium honey liqueur and Kentucky bourbon whiskey made with generous amounts of pure honey and all natural ingredients. Barenjager Honey & Bourbon has a balanced sweet bourbon taste with distinct lingering honey notes on the finish. SRP for 750ml – $28.99.
· With so many holiday parties, Don't prepare your cocktails, just prepare yourself! VnC Cocktails – is the award-winning, naturally spirited, premium, all-natural, low-calorie ready-to-serve line of cocktails from New Zealand. VnC Cocktails are the perfect accessory at any holiday party for those who like the enjoying bit better than the making bit. Celebrities such as John Hamm, Lady Gaga, Kourtney Kardashian, Jennifer Lopez and Maria Menounos are all fans. VnC Cocktails are available in 8 flavors, including Banana Daiquiri, Mango Daiquiri, Margarita, Pacific Mai-Tai, Passionfruit Caprioska, Pomegranate Cosmopolitan, Strawberry Daiquiri and Vodka Mojito. SRP for 750ml – $12.99.
I love drinking premade cocktails so this was great for us! We really enjoyed these and it was great for our guests that wanted mixed drinks!
Be sure to check out all of these great products for your Holiday adventures. You can't have a party without them!