Having a gorgeous set of clothes that are fit for work is usually the last thing on our minds. We all seem to stick to colours like blacks, greys and navies. But, you don't have to be boring. Ditch the two set and midi-length skirt. After all, looking smart and sophisticated doesn't mean that you have to stride around in a power suit from 9 till 5. On the contrary, there are some seriously glamorous ways that you can build a superb work wardrobe. What's more, you don't have to worry about, not looking formal enough.
Invest in Funky Trousers
2015 has seen some amazing trends already. Funky trousers seem to be everywhere. But, you don't have to go for wild disco pants. They would be rather inappropriate for the office! When it comes to trousers, investing a classic black pair of tailored pants is the way to go. Cigarette pants are a style staple. But, if you want to add a little funk to your work wardrobe, why not opt for houndstooth patterns and simple checks? They are fresh, sophisticated and suitable for work.
Build Around Your Staples
There are some things that every woman needs in her work-wear. Start with some critical choices. A crisp white shirt is perfect for maximising your appeal in the workplace. You can add cashmere sweaters and a trench coat for sophisticated chic. Investing in staples that you can build around, is a great way of looking smart every day.
Never Underestimate the Power of a Good Handbag
Having gorgeous Prada bags on your arm is a great way of making your outfit stand out from the crowd. When it comes to bags, it's always best to go for a designer. After all, high street bags and cheap brands look exactly that. You can transform the whole look of your outfit with a stunning piece of arm candy.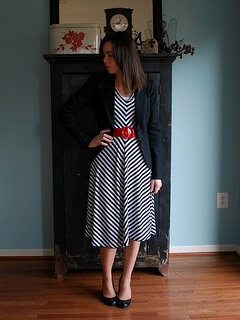 Shoes, Shoes, Shoes
Work shoes are far from dull! You can explore a wealth of different styles and colours to bring your outfit alive. Browns, tans and blacks are great for the office. But, they can be a little dull. If you do prefer these colours, go for suede materials or snakeskin to make your outfit come alive. If you want to experiment with colour, it's best to leave the red shoes at home. Opt for mauve tones and deep teals. These are 'sensible' enough for work but add a pop of colour to your fabulous work outfit.
Accessorising Your Look
Accessories are a must. But, many women feel that accessorising in the office is a huge no-no. Forget about your 'rules' it's time to unleash your inner fashionista. Add a simple skinny belt to a dress in a contrasting colour. Choose a statement necklace to spice up a gorgeous suit. Add bracelets, earrings and headbands to your overall look. Adding a couple of statement rings can be a fun way of making you feel unique in the office. You don't have to opt for simple and sensible. Adding accessories is the best way of making your work wardrobe look stunning.