Are you dying to know which fashion trends are said to crop up this year? You don't have to wonder for much longer! I have some insider information on the upcoming trends that you should find very useful when making your wardrobe picks for 2015. Take a look!
70s Inspired
The 70s is going to take us by storm this year, with worn suede materials and huge floral patterns on just about everything. Dressing with inspiration from another era can be so much fun; just take a look at last year. Last year we were all focused on the 60s, and in some cases the 90s. We're not travelling back as far this time, but you can still have fun with it. Try scouring vintage shops to see if you can find any genuine 70s pieces!
Bright Yellow
Bright yellow is going to be one of the 'it' colours in 2015. Basically, if you see something yellow, snap it up before somebody else does! You could wear a yellow jacket, yellow shoes, anything yellow just so long as it's bright and beautiful. Don't worry, when styled right you won't look like Big Bird from Sesame Street!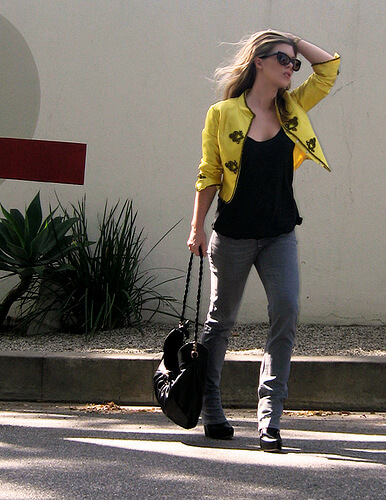 Blue is the New Black
Blue is taking over black in the fashion world, and it's set to be everywhere. You could even consider mixing yellow and blue for two trends in one! Wear it with white for a more colourful take on monochrome. Those who usually wear a different style of clothing, like Muslim clothing, can even follow trends like this.
Monochrome is Back
Sure, you could wear blue with white as I just mentioned, but monochrome is still here in a big way. In fact, it hasn't budged for quite some time now. If you want to look classy and sophisticated, don't hesitate to put together a monochrome outfit with lots of texture.
Interesting Shapes and Cuts
All over the most recent catwalks we saw interesting shapes and cuts. These won't be for everybody; you must be pretty brave to rock some of these trends! Think boxy tops paired with big poofy skirts, and even shift dresses for inspiration.
Japanese Inspired
Japanese fashion is all about luxury materials and pretty, elegant patterns. Get ready to be Japanese inspired this year! You can rock your Japanese ensemble in the form of a dress, top, or even a kimono. Just make sure you get in on this trend!
Chunky Chokers
Chokers have been back with a bang. Just about everybody I know has one, some of them in multiple colours. One thing I've noticed though? They're all made of plastic. They're those real '90s' chokers. This year, get ready to rock much chunkier, heavy metal chokers for a harder edge to your outfits. Grunge has never been so stylish!
With this information, you can shop till you drop knowing you're buying all the right stuff. Feel free to add your own twist to some of the trends to keep it original and unique. Nobody likes a copycat!