Everybody enjoys a trip to the spa now and then. The problem is that having a spa day often stresses us out. The strain, these trips put on your bank account, is immense. The entire point of having a break is so that your worries melt away, and you feel fantastic. If, when you walk out the spa, you have a sudden pang of guilt about the money you spent, there is a problem. Rather than wasting loads of your hard-earned cash on visiting a spa, why not pamper yourself at home?
You can create a stunning home spa in your bathroom, and then try some of these cool remedies and techniques. In no time, at all, you will start to relax and feel happy again. Sometimes, the worries of the world can get on top of us. When that happens, it is hard to focus on what is important in life. When you spend all your time fretting about things, you have no time to chill out. As it is a new year, it is time to treat yourself. Here are some indulgent home pampering techniques you have to try.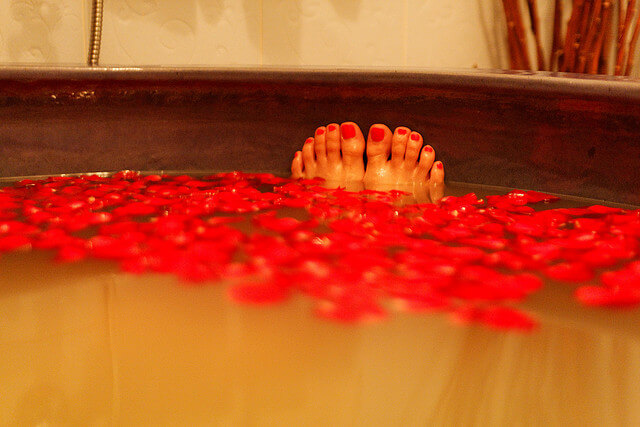 Dry Feet Remedies
Do you have dry, itchy feet? If the answer is yes, you can sort that problem out in no time at all. Much of the time, people will tell you to scrub your feet until all the dry skin comes off them. Don't do that. That can be harmful to your skin. Before you start scrubbing, you need to soften your skin up first. You will notice that the skin on the bottom of your feet is hard. Use an old pair of socks and a good lotion to soften that dry skin. Before you go to bed, you should wash your feet and smother them in lotion. Put the socks on and wear them through the night. When you get up, you will notice that your skin is soft and clean. If there is any excess skin on your feet, you can now scrub it away with ease.
Hair Repair Techniques
If you have loads of split ends, you might think that you need to get a haircut. Well, there is another way. Use Argan oil as a hair mask when you go to sleep at night. It might feel weird going to bed with damp hair, but it will work. If you want, you can wrap your hair in a hand towel so that the oil can work its magic.
The Perfect Skin Facial
Everybody wants to get perfect skin, yet it seems like it is impossible for some of us. If you suffer from skin problems, such as dryness or acne, it might surprise you to learn that a lack of vitamins could be the cause. When you don't have enough vitamins in your system, your skin tends to suffer and become unhealthy. You should get some vitamin C for your face so that you can revive old skin cells. If you use the solution every day, you will find that your skin looks perfect in no time.
The Ultimate Body Scrub
People often tend to focus on their face, hands and feet when they treat their skin. What about the rest of your body? Why should you neglect the rest of your skin? If you want to pamper yourself and feel fabulous, you have to try this body scrub. You will love this scrub as it has everyone's favorite ingredient in it – chocolate! All, you need to do, is mix coconut oil, cocoa powder and brown sugar together. The oil and sugar act as the base for the scrub, whilst the cocoa powder smells incredible. Use the scrub after you have had a shower and rinse well.