It has been a while since we have shared some great pet products with you, so today we have a Newman's Own Organics Pet Review and giveaway! Not only was I excited about this review and so were our two pets! I got a sampler pack for both my kitty and my puppy!
First up is the cat sampler. It had some dry cat food, and of course some wet food. Apparently it smells really good because my cat immediately started chewing on the box! The funny part was that he only chewed on the box with the cat food in it which got me pretty excited about feeding it to him!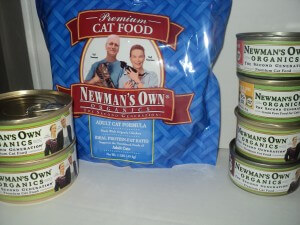 The first thing that we gave him was the wet food. We know that he is obsessed with wet food, he will start jumping on you every time you open a can. He gets to the point that he will jump into the trash can to retrieve the top of the can if we don't put the rest down for him quick enough. He absolutely loved his new food! He kept begging for it which is not normal for him! Not only that but this food did not have the same odor as a lot of other wet cat food. I am not saying it didn't smell, but it also didn't make the whole house smell like kitty dinner. It was definitely a nice change.
He also loved the dry food! Of course he did not like it as much as the wet food, but it's not like other companies where he would get upset if we didn't give him the wet stuff. With other brands we would have to wean him off of the wet food for him to even consider eating the dry food. It was a nice change to be able to give him either on and for him to be happy.
Of course the dog got spoiled! She got two different kinds of treats, dry dog food and wet food. Sadly my daughter realized what the Snack sticks were and realized how happy they made the dog so by the second night they were completely gone! She had woken up in the middle of the night, grabbed the bag, ripped it open and fed the whole bag to the dog. I was very impressed with the Snack Sticks though! They looked like beef jerky and smelled pretty good too.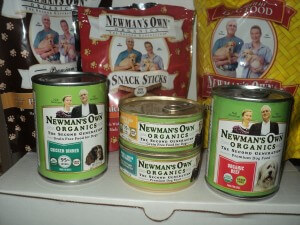 We also got Peanut Butter Dog Treats. At first I thought "Peanut Butter?!" but then I thought about the fact that dogs love the taste of peanut butter, it just ends badly once they start eating it. I loved that they were in the shape of hearts, which made my girls love giving them to our dog! She really loved them and has been being extra good to get more!
Of course they also sent us some dry dog food and some wet food. We do not normally give her wet food, but she was super excited about this special treat! We mixed it with the dry food and she was in heaven. I love that all of these products are organic and contain everything my pets need! Not only do I love it, but they love it to!
The only thing that I didn't like was that they don't have any kitty treats (although the kitty did steal some from the dog). Hopefully they will have some in the future! I love giving my kitty treats, I just wish he would do tricks for them like the dog does.
I highly recommend these products to anyone that wants to look out for their pets like they do themselves, or even if they just want their pets to be extremely happy with their food! You can find them on their website here, or locate a store near you here.
Giveaway!
Enter below to win either a Cat or a Dog Product Sampler
**Disclaimer** I was in no way paid, or obligated to give a positive review, or a review at all for this company. If you would like to read my full disclaimer for reviews you can find it
here
.