Hey everyone!
A lot has happened in the world of Star Focal, but we are back and we plan to make things better than ever! First I wanted to give you some updates on what has been going on and why we have been MIA!
The last year has been super tough! My oldest daughter started Kindergarten, my younger daughter is in preschool and my brother-in-law that we take care of started his Senior year in High School. As some of you know, my youngest is Autistic. This year we started with more therapy as well as more schooling and it has been eating up all my time. When I am not figuring out this therapy thing I am trying to figure out this being a mom thing and it all tends to get a little crazy in this house!
At first I was doing fine, but then things started to slip away and I started to feel more and more useless in my own house. I swear every time I got something done I would have to re-do the whole thing just to be able to move on. Not only that but it felt like everything was breaking! My car broke down and so did my husbands, my marriage was falling to pieces and Star Focal was not getting anywhere. Every where I looked made me feel like a failure and I needed a change.
After a much needed vacation and some me time away from the kids and everything else, I have started to pick my feet back up! I even got bangs!! I know this kind of seems like a New Years thing, but for me this started a couple of weeks ago. Things are slowly getting back to the way they were and I am excited to start sharing with you guys again! I missed you!
Okay so on to what's new! As I said earlier, I got a new hair cut. I got about 6 inches cut off from the back and who knows how much cut for the bangs and it really does feel better! Not only is my hair no longer in my face all the time it gives me more motivation to actually do something with my hair instead of just putting it in a bun every day.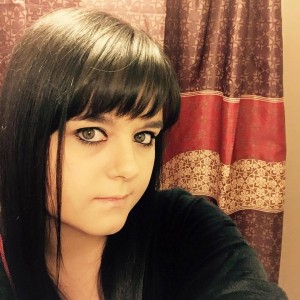 Another new thing that you guys have not seen yet is out new kitty Kali! She is super sweet and can be a bully at times too. This is our new little monster.
There is a lot more going on, but I figure that I have vented enough for today!
What has been going on with you guys? Let me know in the comments!