Life is expensive, especially when you have a family to look after. With bills, gas costs, and food shops to pay for, often there's very little left over for treating ourselves. We all deserve to look and feel our best , which is why it's so important that we can get our hands on all the beauty and bathroom bits and bobs that we need.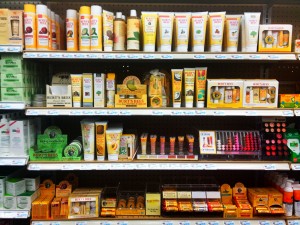 If you need to tighten your purse strings for a while, you are most probably wondering how you will afford the little luxuries. Such as facial scrubs, bath bombs and makeup. While these might not be household essentials, we all deserve to look and feel good. The good news is that if you're savvy about how and where you shop, you can stick to your budget and afford all your must-have beauty bits and bobs. Want to know how? Then make sure to keep reading below:
Stock up during sales
Your favorite store has a sale on? Great, stock up on all your must-have items while they're on sale. While this might mean spending a lot at one time, in the long-run, you'll save yourself money. To ensure that you don't miss any sales, sign up for email alerts from all of your favorite beauty and bath stores. Then, every time there is a sale on, in-store or online, you'll get an alert about it.
Use discount stores and websites
If you have a browse online, you should be able to find some discount stores. For example, http://lensdirect.com is an online discount store that sells lenses at low prices. This site may only sell contact lens related items, but there are plenty of other sites that sell all sorts of beauty products. So make sure to take the time to source these sites, so that you can save on your essentials.
Downgrade to less pricey brands
This one might sound obvious, but you'd be surprised by how many people refuse to do this. Many people make the mistake of thinking that for beauty products to be any good, they must be designer. However, that's not the case. Often, drugstore brands have products that are just as good quality as their designer counterparts. They just come without the pricey label; that's all. Make the switch, and the chances are, you won't be able to tell the difference.
Collect samples
If there are products that you love but can't afford at the moment, stockpile samples of them instead. Most beauty brands offer samples, so whenever you're shopping in-store, ask for a couple. You can also apply for free samples online, from sites like http://freebies.about.com , which is worth doing as often the sizes are larger.
Start couponing
We've all seen those shows where couponing buys a $300 shop for just $20, and all thanks to couponing. Okay, so you might not be able to make such huge savings, unless, of course, you become an extreme couponer, but you can definitely save by couponing. You can find coupons online and in magazines, all you need to do is cut them out.
Want to save on your beauty and bathroom essentials? Take note of the tips above, and you can do it too.