Do you ever love a product so much that you always want to brag about how great it is? Well one of those products for me is the Kulcar. In fact, I decided to re-post the review for you guys just in case any of you missed it! So here you go:
When I was younger and had an older car my air conditioning didn't work. I always wished that I had a solar powered fan to keep my car cool while I wasn't in it so that it wasn't so bad when I did get into it. Now we have a working AC but since our car is black with tinted windows, it gets really hot throughout the day. Sure once it cools down it stays cool, but I don't like turning on the car and leave it running just to be able to get the girls in the car. I was so excited when I got the Kulcar!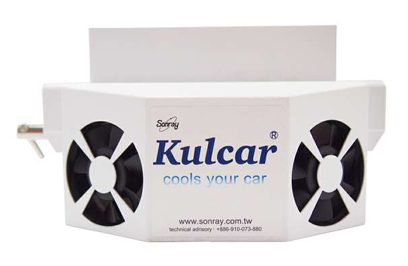 So what is Kulcar? It is a Turbo powered fan that is placed above the window in your car that is solar powered. When in the sun the fans turn on to cool your car down without killing your battery or you needing to be there to turn it on. It is decently quiet and is easy to install.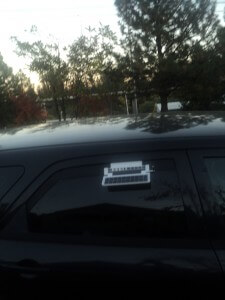 The Kulcar comes with weather striping for you window that not only fits perfectly around the device, but also around you window. For our car, installation was a little more difficult because as you can see above, our back window are angled. After some cutting and sizing we had it installed in no time. It only took about 10 minutes to install even with cutting the strips to size. I also couldn't believe how great it looked on our car!
Like I said earlier, our car gets really hot during the day. So if we want to take the girls anywhere we have to turn the car on, open the windows and let the AC run. I hate doing this for many reasons! One, I don't like leaving my car on without me in it and of course I have to go back inside to get the girls after it has cooled down so this doesn't really work for me. Two, I don't like wasting gas. Three, it takes a lot longer then it should to cool down. With the Kulcar you can just leave it on and it will run when the sun is shining on your car and keep it cool and ready for you to get in.
The only thing I would suggest when using the Kulcar is that if you do have air conditioning in your car, I would push the solar panel down while driving so that it doesn't turn on and off every two seconds. Other than that this device is easy to use and really comes in handy when it's hot! I can't wait until the weather is warmer to be able to really test this thing out!
I think that the Kulcar not only is a great product for the family, but that it would make a great gift. I mean really, who doesn't want a cool car? Also it is a great idea for families with pets, so that they are safe in the car as well!
You can find Kulcar on their website here, or on Amazon here.
Also, be sure to check out their Social Pages!
Kulcar Facebook: #/pages/Kulcar/551389814931439
Sonray Facebook: #/pages/Sonray-Technology-Inc/500367573391926
Twitter: #/KulcarSonray
Google+: google.com/+SarahSonrayKulcar
Pinterest: http://www.pinterest.com/ksonray/