There are lots of occasions when you might need to dress to impress. You might need to dress to impress for an interview, or you might be going on a date. Whatever the occasion, making an effort is so important. These are my favourite tips!
Wear Clothes That Suit Your Shape
If you don't know your body shape, you should find out what it is, quick. Wearing clothes that suit your shape is essential if you want to look great at all times. If you have an hourglass figure, for example, clothes that pull you in at the waist will look very flattering on you. If you see yourself as an apple shape, you'll want to avoid wearing baggy clothes as they can make you look bigger. Do your research first!
Get Inspiration
If you're stuck for inspiration, you don't need to suffer in silence. There are lots of ways you can find clothes that you love. Take a look on sites like Pinterest, Instagram, and Lookbook to start with, recommend JustFab.
Only Wear Clothes You Love
Don't wear clothes just because somebody says you should. Don't wear clothes just because somebody else likes them either. You need to wear clothes because you love them, and that's that! If you make sure the clothes you're wearing are items you really like, you'll always look confident and beautiful.
Always Accessorise
Don't forget to accessorise, even if you're only going to wear a nice watch. Never leave the house without your accessories! Some outfits might call for a necklace, others might call for a pair of statement earrings. My favourite jewellery is a nice watch with a statement ring. It's a combo that goes with everything.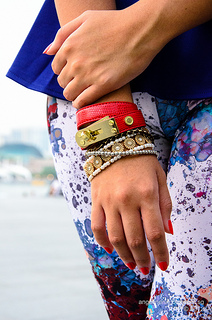 Wear Colours to Suit Your Colouring
Wearing colours is great, but you need to make sure they suit your colouring. What colours suit your skin tone? Take your hair and eyes into account too and you should find colours that look great on you.
Wear Shaping Underwear
Shaping underwear is great for creating curves and pulling you in in all of the right places. No matter what you're wearing, shaping underwear can help you to look even better than before. Try it once, and you'll be hooked! You can even find shaping underwear that gives you a Kardashian style bum lift. Who needs surgery?!
Don't Forget Your Beauty Treatments
Accessorising and dressing to impress is all well and good, but don't forget your beauty treatments. Make sure your nails and hair are up to scratch too. You can't expect to impress anybody if your nails are all odd shapes and chipped! You don't even have to pay for these; learn how to do it yourself. It'll be worth it in the long run.
Use these tips when it's time to dress to impress and you'll always look effortlessly put together. Bear in mind that less is more and you want to enhance your beauty, not mask it with makeup and sparkly jewellery. See you next time!