I know I'm not the only one obsessed with the smell of freshly cleaned laundry! Maybe I am more obsessed than others, but I hate it when my laundry looses it's scent. I have tried so many different brands of soap and fabric softeners, but it seems like the scent fades after a couple hours. I was so excited when I got Purex Crystals in Mountain Breeze to review!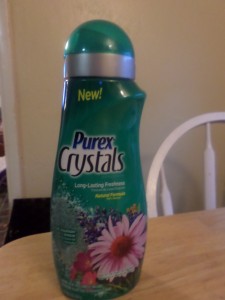 First I will start with how great the bottle is! It has a unique design that I just love! It also has a cap and pop open top so it is easy to use! I hate trying to fumble around with caps just to wash my laundry. As if I have enough time in the day to deal with complicated caps! So this was a breathe of fresh air, or should I say a breathe of Mountain Breeze?
As I said before, this product is super easy to use. Unlike other laundry additives, you can add it at the beginning of the wash and forget about it. It doesn't leave a strange residue on your clothes and it is 87% natural! These crystals leave your clothes smelling fresh for weeks instead of hours and you can definitely tell the difference in how fresh your clothes are!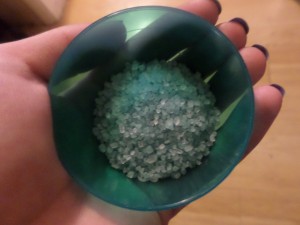 I love that they actually look like crystals and that as soon as you open the bottle you get a huge whiff of amazing! They made our clothes smell amazing and they still smell amazing, which is a must for kids clothes! I am really happy that I was able to try out this great product!
Be sure to check out Purex Crystals and the other scents on their website here.
Want to win your own bottle of Purex Crystals? Enter to win a coupon for a free bottle below!
**Disclaimer** Star Focal received samples of the above product in order to facilitate a review. However, we were in no way paid, or obligated to give a positive review, or a review at all for this company. If you would like to read my full disclaimer for reviews you can find it
here
.