I love being able to sit down with my girls and watch Holiday movies. They love the movies and love that we can watch them as a family too. We were so excited when we found out that we would be able to test out the Dreamworks Holiday Collections.
First we have a new classic set including Shrek, Po, Toothless and more from Dreamworks.
My girls loved being able to see their favorite characters in Holiday specials. It was easy to get them to watch the movies and they were fun for the whole family! This box set includes Shrek The Halls, Merry Madagascar, Kung Fu Panda Holiday and Dragons Holiday: Gift of the Night Fury. It also has awesome bonus features including games, music videos and more!
We also got to enjoy the Original Christmas Classics Box Set, which of course is always a favorite.
This set includes all of the Classic Christmas cartoons that most of us grew up watching. This set includes Frosty the Snowman, Rudolph the Red-Nosed Reindeer, Santa Claus is Comin' to Town and Frosty returns.
We loved being able to get ready for the Holidays watching great movies that we all loved. If you are looking for a great way to get your kids ready for the Holidays I would definitely check them out!
You can find these and other great DreamWorks movies on their website here, or at a major retailer near you.
Also be sure to check out this awesome Holiday Wish list you can print out for your children!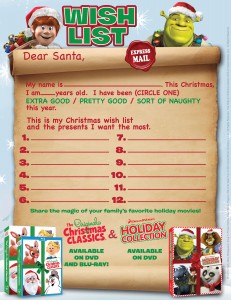 **Disclaimer** Star Focal received samples of the above product in order to facilitate a review. However, we were in no way paid, or obligated to give a positive review, or a review at all for this company. If you would like to read my full disclaimer for reviews you can find it here.