As a select few of you may know, my husband and I are absolutely obsessed with Monopoly. We play it all the time but I feel bad because it's not something that we can play together as a family because our girls are just too little to understand the game. So I have been on the look out for games that the girls can play that not only are games they would like to play, but that they can understand and have fun with. This is why I was so excited to get the chance to review some new Wonder Forge Games.
Wonder Forge has great games that are made from your children's favorite characters and more! We were able to snag a Sofia the First Magical Tea Time Game, a Jake and the Never Land Pirates Shipwreck Beach Treasure Hunt Game, and the Doc McStuffins All Better Game. My girls were so excited when they saw these games! So let's get to what we thought about them!
I will start off with my girls favorite game of the bunch, the Doc McStuffins All Better Game!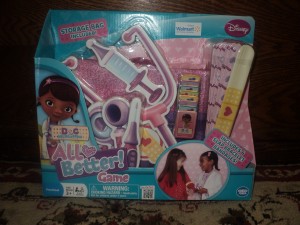 This game is not one their favorite, but one of mine as well. It is pretty easy to understand and the girls LOVE the pieces. It comes with Slap Bracelet "band-aids" that have an instrument printed on the back of them. When it's your turn you try to guess what instrument will fix their boo-boo. I think our favorite part of the game would have to be the bracelets just because who doesn't love slap bracelets?! The girls will run around wearing them all day and will try to fix any and all boo-boo's they find. It also comes with it's own carrying case so that you don't lose all the pieces!
Next up would have to be the Jake and the Never Land Pirates Shipwreck Beach Treasure Hunt Game.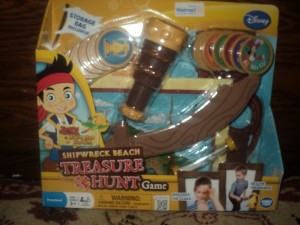 We ended up sharing this game with the girls cousins. While Jake and the Never Land Pirates is one of my daughters favorite shows, this was the only game that she would share with her cousin. This game was a lot of fun as well. The coins have a magic hidden clue that can only be seen with the telescope and you take turns "hunting" for the treasure. I was a little worried at first about the sword being made out of foam, but as we played with it everything made sense! I thought that it would be one of those cheap swords that would break before you could even play the game, but to our surprise after hours of hitting everything in site it was still completely in tact. I was amazed! Not only that but if one of the kids hit another with it, it was soft and no one got hurt. So I would have to say that they made a great choice when designing the sword! All the kids had a great time playing this game and I can't wait to play it with their cousin again!
Last, but certainly not least, Sofia the First Magical Tea Time game.
This is another one of the favorites! I was so glad when these games arrived because somehow Wonder Forge had the most amazing timing! Our games arrived and were waiting for us when we got home from taking our daughter to get an EEG. She thought it was Christmas! We definitely had a lot of fun playing the games with her and this was the first one that we broke out just for her. I love this game because my girls are obsessed with having tea parties, but they MUST have water in order to play. With this game you only use air! If you squeeze the teapot it blows air onto the cups that make them change color! The girls were so interested in how it worked that they playing with it for hours and they really do think it's magic!
They had so much fun sharing their tea and having, well, a magical tea party! I was so excited that we had something to take our babies mind off of her head for a couple hours and I cannot thank Wonder Forge enough for that!
We loved all of these games and they have tons of great games not only for kids, but they also have games for the whole family! So be sure to check them out so see what would be perfect for your little angel! You can find them on their website here, or at your local Walmart!
**Disclaimer** Star Focal received samples of the above product in order to facilitate a review. However, we were in no way paid, or obligated to give a positive review, or a review at all for this company. If you would like to read my full disclaimer for reviews you can find it here.