I love smelly stuff! Sure I am not as obsessive as some I know, but if I find something that smells great and works great I have to have more! I got my first whiff of Vitabath products when we went to the iFabbo Conference in San Fransisco. I knew that I had to test out more of their products, so here they are!
About Vitabath
For more than 55 years, consumers have trusted the Vitabath brand for unparalleled skin cleansing and conditioning. Vitabath's quality ingredients and rich fragrances indulge the senses and nourish the skin, resulting in a relaxing, yet invigorating, at-home spa experience. In 2011, Vitabath has revitalized its brand with the introduction of a new moisturizing, sulfate and paraben free body wash line in a wide variety of fresh, playful fragrances.
What I Thought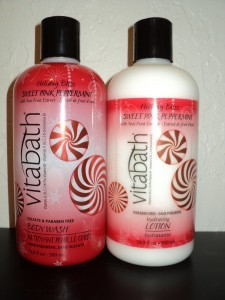 First up is a Sweet Pink Peppermint from their Holiday Bliss line. At first I was a little worried about smelling like a candy cane all day after using this fragrance, but was pleasantly surprised that it smelled amazing. Sweet Pink Peppermint is a cool pink candy cane mixed with cheery vanilla and sugary musk scent that is really sweet smelling and is not as overpowering as I thought. I think it is a great holiday scent that anyone that loves the holidays will adore! I know I did!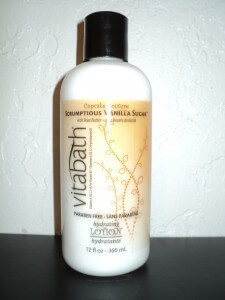 These next two fragrances are part of their Cupcake Couture line which is absolutely amazing! When I first heard of the Cupcake Couture line I knew I had to have it! Of course I love cupcakes and knew this line had to smell amazing. This first fragrance is the Scrumptious Vanilla Sugar scent. This scent as I'm sure you can imagine is creamy vanilla paired with sweet brown sugar and hints of almond. I love vanilla scented fragrances and the brown sugar added just makes this amazing!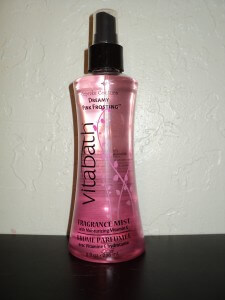 Last, but certainly not least, is Dreamy Pink Frosting which happens to be my favorite! This one has the scent of a scrumptious champagne cupcake topped with pink frosting. It really does smell like a cupcake! I loved that this Fragrance Mist stayed on for a long time without needing to apply and is perfect for any occasion. Heck, who doesn't want to smell like you just baked a batch of cupcakes? I just wish I could pull one of the cupcakes out of the bottle!
Of course all of these products are Sulfate and Paraben free which I love, but they also keep your skin soft and keep you smelling great! They have tons of great scents and even have some of the original products that our mothers used to love! I think these products make great gifts and are something that anyone would love to get!
Be sure to check them out on their website here, or on Facebook and Twitter!
**Disclaimer** Star Focal received samples of the above product in order to facilitate a review. However, we were in no way paid, or obligated to give a positive review, or a review at all for this company. If you would like to read my full disclaimer for reviews you can find it here.