One of the reasons I love this time of year is that I get to break out my boots again! The rest of the year I am a flip flops girl, but I do LOVE my boots. When I found out I was getting to review a pair of Clog Boots from Sandgrens to say I was excited was an understatement!
When I got my boots it was like it was already Christmas. They had the boots wrapped up like a present and even had a little leather keychain in the shape of clogs. It was super cute and I couldn't wait to rip it off and get to the boots. Yes, I am one of the rip first ask questions later present openers. The boots themselves even had little owls on them!
I received Sandgrens Philly Boots in Berry and they are absolutely beautiful! They are definitely my new favorite pair of boots! I knew they would be gorgeous from the pictures on Sandgrens website, but I did not realize how great they would be in person. You can tell they take the time to make every pair of boots perfect! As a company founded in 1846 you can always trust that they will give you the highest quality clogs!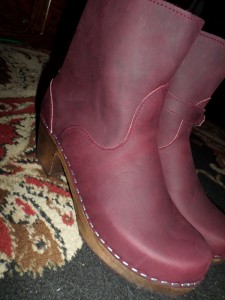 The Philly boots are made with a Swedish Alder Wood Base that has a perfect medium height heel. They also feature Soft Horween Nubuc Leather that is extremely soft and very comfortable. They have an inside zipper and a buckle and strap that are removable so that you can change the style to match your outfits.
Sandgrens is having a huge Black Friday sale where you can get select boots as low as $49. So make sure to check them out for your Holiday shopping! You can find them on their website here.