Lately, I have been really getting into lipstick. I always used to hate wearing lipstick because it never lasted and I could never find a color I loved enough to apply it every 30 minutes. Since becoming a blogger I have been introduced to different lipsticks that stay put and that come in some beautiful colors! One of those amazing lipsticks is Revlon Super Lustrous Lipstick!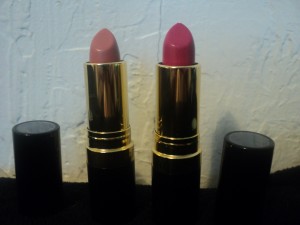 I was able to snag Revlon's Super Lustrous Lipstick in Pink Cognito and Fuchsia Shock. I love both of the colors and was amazed by how great they looked without even putting them on!
I love Pink Cognito! Since I don't wear lipstick often I really love the more neutral colors. This has just the right amount of pink to not make you look dead, but also it is light enough to wear it just looks like you have perfect lips.

I think that Fuchsia Shock is my favorite of the two. Sure it is FAR from neutral, but it goes well with most of my makeup and doesn't look funny. I have a very hard time pulling off reds and can barely pull off bright pinks, but this one is just too pretty not to wear! I think this is the prettiest lipstick I have ever seen and will definitely have to buy more when I run out!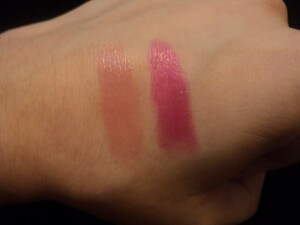 I find it amazing how well these glide onto your lips. As you can see on my hand it almost blends into my skin instead of sitting on top of it. It moisturizes my lips really well and keeps them from drying out. I have very sensitive lips and they are always peeling and cracking, but with these it seems to hold the moisture in as well as adding some so my lips have never looked better.
A lot of lispsticks that I have tried, especially recently, have funny smells. Some have almost a perfume smell that stays long after the lipstick itself is gone, or they will smell like plastic or even oil. With these shades I barely notice a smell. I get migraines relatively easy so I am very happy with how these smell!
I highly recommend these to anyone that wears lipstick, or even anyone that wants to have something for a girls night out. You can find Revlon and all of their great products on their website here, or at a local Revlon retailer.
**Disclaimer** Star Focal received samples of the above product in order to facilitate a review. However, we were in no way paid, or obligated to give a positive review, or a review at all for this company. If you would like to read my full disclaimer for reviews you can find it here.