My oldest loves putting everything in her hair, literally! But she loves hair clips, hair ties and anything else pretty that she can put in her hair. When I told her she was getting something new from Qoileez she was very excited!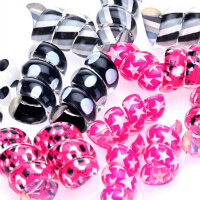 About Qoileez
Qoileez! are multipurpose, trendy, and affordable accessories that can be used as color-coding identifiers, organizing and storage solutions, hair accessories, eyeglass charms, pencil grips, knitting needle holders, clothing and shoe fashion, wine glass marker – your creativity is the limit!
Qoileez! A simple and affordable solution to everyday problems while adding fashion fun! With a simple stretch and twirl – Qoileez! has endless use.
What we thought!
I really love the idea of Qoileez! They come in great colors and have so many uses! We have mainly only used them for our girls hair, but they have used them around their fingers, around certain toys an so much more! They have endless possibilities and are so much fun for the little ones!
My only issue was that they were somewhat a chore to put them into my girls hair, but once they were in they stayed there which was nice and after a few tries it got easier and easier to put them in. Putting them on other items was actually pretty easy, easy enough that the girls can do it!
I think Qoileez would be a great gift for any kid and I think they would make amazing stocking stuffers! They definitely kept my girls entertained and I'm sure they will continue to do so for quite some time. Be sure to check them out on their website here.
**Disclaimer** Star Focal received samples of the above product in order to facilitate a review. However, we were in no way paid, or obligated to give a positive review, or a review at all for this company. If you would like to read my full disclaimer for reviews you can find it here.
Qoileez