If you have a pet you know how hard it can be to take them anywhere. Whether it's to a family get together or a Vet visit, sometimes our furry friends just don't want to cooperate. Of course we can use one of those plastic pet carriers, but they are to hard and uncomfortable. Or we can always go with they purse idea, but personally, I will never be one of those people. I was so excited when I heard about the new Park Tote Pet Carrier from Quaker Pet Group/Sherpa!
This carrier is great because you can zip it up as a carrier on the go, or you can open it and lay it flat as a pet bed when you and your pet are not at home. At first I thought that this pet carrier would be just as hard or uncomfortable as the other pet carriers until I saw it in person. When I got it it was folded nice and flat and I didn't even realize what it was at first!. It looked like a blanket or sleeping bag. I immediately folded it up and put our kitty in it to see how he liked it.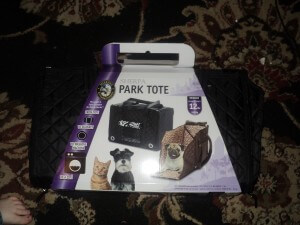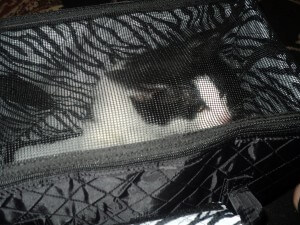 He seemed to like it quite a bit, which was surprising to me! Plus he matched!

I kept catching him trying to jump in and sleep in it. He didn't like it so much when it was laid flat, but he did love hiding in it while I had it out. I was surprised at how easy it was to set up or take down. There are zippers on each corner, 2 on top and a button to make sure that it will not accidentally open when it shouldn't.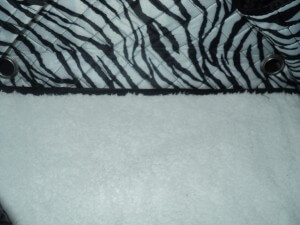 Another great thing about this carrier is that it comes with a faux lambskin lined insert that can be placed at the bottom for extra comfort. I could not believe how soft it was and I wished that I had a blanket as soft! The insert also helps keep the carrier sturdy, which obviously is pretty important with a carrier like this.
Unlike other carriers, when this one gets dirty you can just throw in in the washer instead of sitting there and scrubbing it. We all know accidents happen with out pets and we all need an easier and cleaner way to transport them. I fell in love with this carrier and so did our kitty!
You can find the Park Tote on the Simply Dogs and Cats website here.
**Disclaimer** Star Focal received samples of the above product in order to facilitate a review. However, we were in no way paid, or obligated to give a positive review, or a review at all for this company. If you would like to read my full disclaimer for reviews you can find it here.