Of course, as a woman I love chocolate. However I am very picky about my chocolate which seems to drive some people (like my husband) absolutely nuts. I am one of the only people that I know that HATES chocolate cake, ice cream and brownies. Occasionally I will want chocolate so bad that I will eat them but for the most part I wont go anywhere near them. Now that you that little tid-bit about myself I would like to share with you my new favorite, Guylian Chocolate.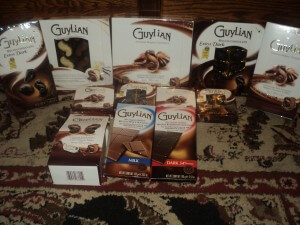 When I got my package of chocolate I was in heaven! My FAVORITE type of chocolate is pretty much any chocolate truffle and getting a huge box of truffles was something I thought could only happen in my dreams! The downside to this was that now my daughter knows that boxes sometimes have really cool stuff inside, so of course she saw the chocolate and I had to share with her. Okay, so I had already planned to share with pretty much everyone that came around but her seeing exactly how much I had was already a problem. We immediately broke into one of the bags and between the three of us (the hubby was not home) we had eaten a whole bag within a couple hours.
After that I organized the chocolate. I had to make sure that I put some aside for family and of course some for me, myself and I. I am not a big fan of dark chocolate so that went where all the dark chocolate goes. To the Dark Side! Well, actually it went to my parents house where someone would actually enjoy it. After dropping it off I got a call about how amazing it was and how amazing I was.
Enough about how amazing I am, lets talk about how amazing Guylian is! First of all I love the shapes of these chocolates. I have honestly never seen anything like it! They are made in the share of Sea Shells and Seahorses! The outside is marbled and I swear they look more like artwork than something you would eat! Even my daughter was amazed by the shapes!
Each piece of chocolate is made with 100% pure cocoa butter and filled with their signature Hazelnut Praline Filling. I was worried about the filling being Hazelnut but to be completely honest, it was the best chocolate I have ever tasted! Despite me trying to hide it from myself, all of the chocolate was gone in a matter of days. I just couldn't keep my hands off of it!
My favorite out of the bunch was of course the original truffles, my girls loved the white chocolate with a vanilla filling and my husband loved the milk chocolate bar. We all loved the chocolate and want more! You will definitely not be disappointed if you try Guylian! They are definitely my go-to chocolate from now on! You can find these and other great Guylian Chocolates on their website here.
You can also get 10% off your order until the end of the year using the coupon code: Chocolate10
Giveaway!
Enter to win a Guylian Chocolate prize pack!
**Disclaimer** Star Focal received samples of the above product in order to facilitate a review. However, we were in no way paid, or obligated to give a positive review, or a review at all for this company. If you would like to read my full disclaimer for reviews you can find it
here
.