As some of you may have noticed, I have a lot of skin problems. Between acne, oil, and everything in between I just can't catch a break with my skin! I have tried BB creams, which seem to help, but they don't cover well enough or work well enough for me to do a complete switch. When I heard I was getting the chance to review the Almay CC Cream I wanted to jump up and down for joy to try a new product that may actually help me!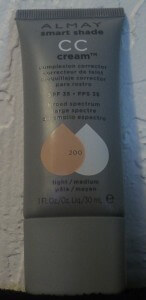 I was very excited about this product, not only because it does everything a BB cream does, but because it also provides more coverage and after continued use correct many skin problems. I thought this would be perfect for me and I couldn't wait to test it out. The first time I used it I noticed that not only did it cover better than any of the other creams I have tried, but that it did not make my skin produce more oil. So I decided to keep using it.

After using it for about a week, I noticed a great difference in the amount of oil produced in my skin as well as how many breakouts I was getting. It also seemed to help correct my uneven skin tone which was a must have for me! I loved that I could use this as a base or even a primer for my other makeup, or that I could wear it alone for those days that I just want to lay around the house and not waste a whole bunch of product but still look great.
I can honestly say that I LOVE this product and that it is way better than any BB cream or tinted moisturizer that I have used. It is great for just about any occasion and is very simple to use. It even has SPF built in! You can find this and other great Almay products on their website here.
**Disclaimer** Star Focal received samples of the above product in order to facilitate a review. However, we were in no way paid, or obligated to give a positive review, or a review at all for this company. If you would like to read my full disclaimer for reviews you can find it here.