I will admit, I have a very hard time drinking water! Mainly because while I am okay with the taste, I just prefer those horrible sugary drinks. Sure I can put lemon and all kinds of things in the water, which I have tried many times, but I hate trying to take a drink of something and all of the sudden choke on a piece of whatever I decided to put in my drink that day. I was sent some awesome products for a Zing Anything Review!
About Zing Anything
The Zing Anything product line and technology is designed with the purpose of extracting the essence of all natural ingredients and allowing these flavors to infuse directly into a liquid of choice. Flavor, aroma, hue, plus the added vitamin, minerals, and nutrients all infuse naturally when using fresh ingredients like fruits/vegetables in the Zing Anything product line of water bottles and salad dressing makers.
What I think
I received the Citrus Zinger and the Vodka Zinger. First I will tell you about the Citrus Zinger. The Citrus Zinger not only infuses your water, but you can use it to easily make fresh Lemonade, Limeade or even Orangeade. One of my favorite ways to drink water is with lemon. For some reason it just makes the water taste fresher.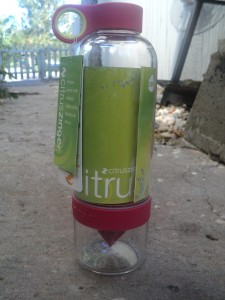 The Citrus Zinger comes in Pink (pictured above), Green, and Orange. The bottom has a juicer built in that I find works quite well!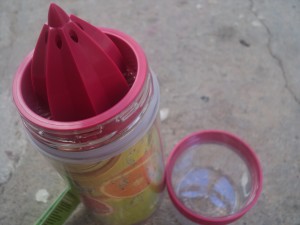 One suggestion I would have when using the Citrus Zinger is to wait to fill it with water until you have juiced any lemons you plan on putting inside. I only say this because I am super paranoid and of course clumsy and with my luck I would knock the thing over and juice would go everywhere! Other than that the Citrus Zinger is great! I am very happy that I can make fresh lemonade without the hassle!
I also received the Vodka Zinger to review.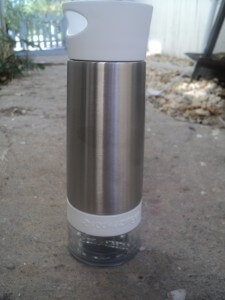 I love drinking mixed drinks or flavored drinks in general, but I hate all the extra sugar and who knows what else that they add in the process. With the Vodka Zinger you get to choose what flavors you want and you know that they are healthy.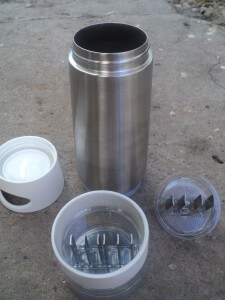 The bottom of this one is a little more heavy duty then the Citrus Zinger, mainly because you can use other fruits and veggies in this one. Personally, I chose strawberry for my first run. I know, it's kind of plain but I love strawberry and I am not a huge fan of artificial strawberry flavoring.
The Vodka Zinger only comes in white, but I do love the white! Hopefully they will come out with more colors in the future! I cannot wait to see what products they come out with next!
You can find the whole line of Zingers on Zing Anything's website here.
**Disclaimer** I was in no way paid, or obligated to give a positive review, or a review at all for this company. If you would like to read my full disclaimer for reviews you can find it here.