One of our new favorite beauty companies is Yves Rocher! They have so many wonderful products with great prices and they use the power of plants to create them! I was able to snag products for a Yves Rocher Flower Party by Night Review!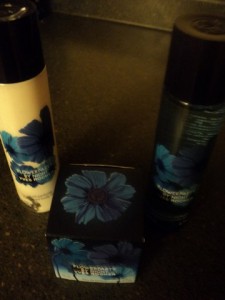 Flower Party by Night is a spin off of their original fragrance Flower Party. This fragrance is a mixture of Liquorice, Bitter Almond, Star Anise and Vanilla. The name totally fits for this perfume! It is definitely something that I would wear at night. To me it almost smells warm, which is great! Especially with the colder weather coming.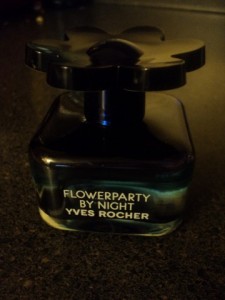 The perfume itself comes in a gorgeous bottle (one of the prettiest bottles I have ever owned)! I can spray myself with it in the morning and still smell it when I get home. I have been so used to using body sprays that the first time I used it I went a little overboard, but since then have learned to only spray a couple times and it is perfect! Not only is it a great perfume for night, but I love wearing this during the day too. It is not overpowering and I get compliments every time I wear it!
I was also able to score the matching Shower Gel and Body Lotion! The Shower Gel also smells amazing! I do wish it was a little more sudsy but it washes great and is quite relaxing! It also leaves my skin feeling soft. I have pretty dry skin so I need all the moisturizing I can get.
One thing that really surprised me is the Body Lotion. As I said, I have very dry skin so it is really hard to find a product that leaves my skin moisturized without leaving it oily. I have tried so many different products only to be let down or just not want to purchase it because of the price. I can honestly say that I have never used a lotion that has worked so well with my skin! Even my husband has commented on how softer my skin is!
I have yet to be disappointed with any of Yves Rocher's products, which is amazing! Normally you can only find a couple products from each company that you like and most of those products fall in the same category like nails, face, or body. So far I have tried Makeup, Perfume, Shower Gel, Body Lotion and even facial products and they have all been amazing! I highly suggest that you check out some of their amazing products! You can find them on their website here.
**Disclaimer** I was in no way paid, or obligated to give a positive review, or a review at all for this company. If you would like to read my full disclaimer for reviews you can find it here.