As some of you may know, my husband is a boot salesman. Not only does he sell them, but he is obsessed with them. He knows just about everything there is to know about boots and the companies that he sells for, but it's more than just the knowledge. He also owns about 15 pairs of boots (does not include sandals)! He is very obsessed with keeping his shoes as clean and neat as possible, they even have their own shelf! When I was told I had the chance to host a SteriShoe Review and giveaway I was very excited!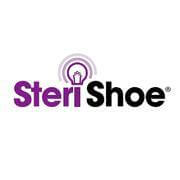 So what is SteriShoe? SteriShoe is a product that sterilizes the insides of your shoes using Germicidal Ultraviolet Light (UVC). It kills 99.9% of organisms that cause Foot Odor, Athletes Foot, and Toe Nail Fungus! It is accepted by the American Podiatric Medical Association, is safe and easy to use, and is completely chemical and drug free! When I told my husband this, he told me that it couldn't be true and he just did not understand how it could possibly work. I explained to him that UV Light has a lot of benefits and while it may not seem possible we might as well try it and see how it goes.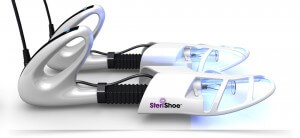 We received the SteriShoe extremely fast and while my husband was still a little hesitant, I couldn't wait to try it! I ripped it out of the box, read the directions/information booklet, and went on a search to find the stinkiest shoes I can find! Since my husband has so many shoes none of them were as smelly as my brother-in-law's shoes! I immediately put the SteriShoe to work!
The SteriShoe process itself takes about 45 minutes, but setting it up took about 2 minutes so it was a fair trade. After the 45 minutes I took the shoes out of the bag and sniffed them. They were so smelly before that they still had a slight smell so I decided that I would turn in on for another run while I was at work. I get a call a couple hours later from my husband saying that he took the shoes out and can't smell anything. He kept asking if the shoes were smelly when I put them in the bag or if I did something funny to them, so I told him to try it out himself.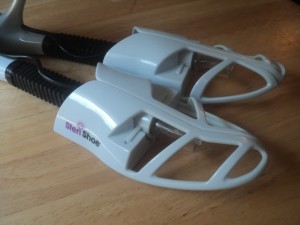 When I came home he had already used the SteriShoe on multiple pairs of shoes and kept freaking out because he could not believe that it was working on all his different shoes. He was hooked. He decided to take it to work to talk to some of his co-workers to see if they had ever heard of such a thing. His boss said that he had seen similar products at trade shows, but had never seen one with such a great design and one that actually worked. They are even thinking about adding the SteriShoe to their inventory!
SteriShoe is not only great for the average shoe-wearer, but is great for those with diabetes. Diabetes often causes poor blood circulation which can lead to loss of sensation. Pain tells our bodies that something is wrong, but when we cannot feel pain, an untreated blister or a sore can develop into a foot ulcer. When left untreated, a diabetic foot ulcer can result in an amputation, and there are approximately 86,000 diabetic related amputations annually. So keeping your shoes clean is a must and this is an easy way to do it!
You can find SteriShoe on their website here.
Giveaway!
**Disclaimer** I was in no way paid, or obligated to give a positive review, or a review at all for this company. If you would like to read my full disclaimer for reviews you can find it
here
.