I have very dry, frizzy hair. I have tried so many different products and some help the problem, but none fix it. I have had luck with Keratin Treatments, but I feel bad using so many chemicals on my head. Luckily we can have a Perfect Hair Day with Living Proof!
About Living Proof
Living Proof was created with a simple ambition – challenge conventional wisdom to solve your toughest beauty problems.
With our team of expert stylists and biotech scientists, beauty meets brilliant science. We invent and patent new molecules that completely change how hair behaves. For head turning, bliss creating, confidence boosting results. We stop at nothing short of products that keep their promise. And the only one who can prove it, is you.
You are the living proof.
What I Thought
I received Living Proof's Perfect Hair day 5 in 1 Styling Treatment and their Satin Hair Serum to review. Both products looked amazing and with Jennifer Aniston all over their page it has to be good, right?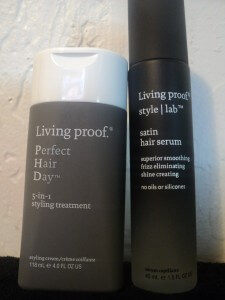 First I will start with Perfect Hair Day. I never seem to have luck with styling treatments. They always seem to either dry out my hair or make it stiff or sticky looking. If anything it made my hair softer and easier to manage. This product is meant to treat your hair, help with styling, and it even offers heat protection! I couldn't ask for anything more! It has been a great product to use and I truly love it!
I have tried so many different serums in my hair that it drives my husband nuts. He just doesn't understand why I want my hair to look great when I am already married. He doesn't seem to get that if I feel better about myself everything else will get better too. Oh well maybe one day he will learn. Anyway, Living Proof's Satin Serum worked great! It didn't leave my hair oily or sticky and helped get rid of the frizz. It is by far the best hair serum I have tried!
Lately I have been very disappointed with my hair. Not only has it been extra dry and frizzy lately, but my hair has been falling out left and right. So I went from having thick hair to having very thin hair and not nearly as much of it. I have been really missing the volume in my hair which is another reason I was excited about these products. Not only do they help get rid of that dry and frizzy look, but they also help create volume!
So far I love Living Proof Products and I hope to be able to review more for you guys in the future! Be sure to check out their website here!
**Disclaimer** I was in no way paid, or obligated to give a positive review, or a review at all for this company. If you would like to read my full disclaimer for reviews you can find it here.