I always find it hard to keep my hair, skin and nails healthy. Which is why I was so glad to be able to post a NeoCell Review! What is NeoCell? NeoCell is the #1 Collagen brand in the world and a leader in the field of nutritional science. They offer many different products to keep you happy and healthy.
I received their Keratin Hair Volumizer and their Collagen Beauty Builder to review. I have really thin nails and really dry hair so I was excited to see if their products really worked!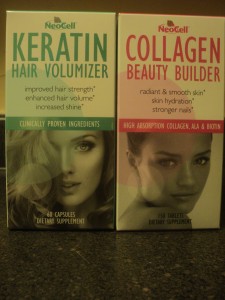 First I will talk about the Keratin Hair Volumizer. I LOVE Keratin products and they have never let me down, so I knew I had to have this product! They are medium sized white capsules and you take two, twice daily. Our hair and nails are made of Keratin and collagen so the two main ingredients help strengthen what you already have.
I currently use a Keratin treatment on my hair as well as wash my hair with a Keratin based shampoo and my hair has never been so smooth and this product has made my hair even stronger and has significantly reduced the amount of hair loss I have been experiencing. For the last couple of years I have been loosing hair constantly. Even my husband has been getting upset because he finds my hair everywhere. So anything I can do to help stop my hair from falling out benefits pretty much everyone in my house (specifically my vacuum).
While I may be able to baby my nails and get them to be a little longer and stronger, they never seem to stay long. Also, my skin is not what it used to be after having the girls, so I thought that the Collagen Beauty Builder would work wonders for me!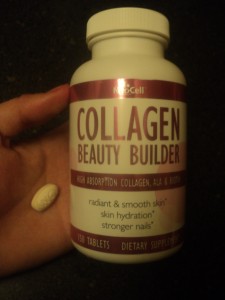 These remind me of the size of Calcium pills. You take 3 pills, twice daily to get radiant, smooth and hydrated skin and strong nails. I have never taken collagen anything before so this was a new experience for me. I have however heard very good things about collagen and how it works wonders for skin and nails so I couldn't wait to see how it worked for me.
After taking these products for about a week I noticed less hair fallout, along with hair that was stronger and extremely shiny. I generally have a lot of blemishes because of so many problems with my skin and I have noticed that my blemishes have been healing faster than normal and that my skin has just overall been softer and healthier. I also noticed that my nails have been stronger and almost seem to have a shiny coat over them.
I would definitely recommend these two products to anyone looking for beautiful hair, skin, and nails that like me, can't seem to get them by themselves. NeoCell also offers other great products that you can find on their website here.
Giveaway!
Enter to win the products above!
**Disclaimer** I was in no way paid, or obligated to give a positive review, or a review at all for this company. If you would like to read my full disclaimer for reviews you can find it
here
.