We're back for another Manicure Monday with Elegant Touch Nails. We got some awesome products to share with you and today we are starting with their Envy Wraps Bling line.
About Envy Wraps Bling
Elegant Touch are talking textures, and these new and tactile nail wraps offer a must-have and easy-to-apply manicure that lasts for up to 10 days.
These fashion-forward films will add some serious decoration as you drum your fingers!
Take a walk on the wild side, Elegant Touch Envy Wraps Bling in Gone Wild offers an on-trend zebra print with a decadent difference. Deck out your digits with this animalistic print for a truly tantalizing touch. Envy Wraps give every glam goddess the chance to adorn their nails with an eye catching manicure in minutes without the spills, smudges or drying time required for a salon-style treatment. Now with 3D texture, these Bling wraps are super glamorous, these easily applied talon treats are the perfect accessory for any outfit.
What I think
I was very impressed with this from the beginning. They looked really pretty and also came with sizes big enough to put on your toes! Of course for this review I decided to put them on my fingers!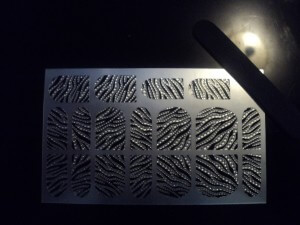 I loved how easy these were to apply and how great they looked on me. I even got compliments on them less than an hour after I had put them on! The design itself is beautiful and it is not as textured as I had pictured from the description. Yes there is texture to them, but they are less than what you would feel if you had put on gems by hand. I do not normally like texture, but these have the perfect amount.
They have tons of other designs and they have ones without bling that are awesome looking! You can find these and other great Elegant Touch products on their website here. Be sure to subscribe to our Manicure Monday posts to see other great Elegant Touch Nail's designs here!
**Disclaimer** I was in no way paid, or obligated to give a positive review, or a review at all for this company. If you would like to read my full disclaimer for reviews you can find it here.