We have two new things to share with you today! One is that I decided to start up a Manicure Monday area for the blog and this is our first Manicure Monday post! I have been super excited about doing my nails and how long they are getting so I decided I would share my excitement with you! Our first manicure is brought to you by OMG Nail Strips!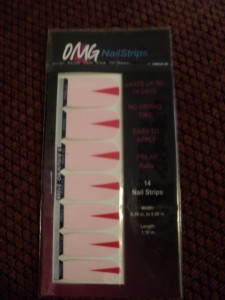 About OMG Nail Strips:
OMGNailStrips.com has one simple goal, bringing the latest styles and trends in nail art and making them into an easy to apply nail strip. Inspired by larger companies that charge customers $8-$20 per set and have a limited selection of designs, the creators of OMG Nail Polish Strips decided to create an affordable alternative to expensive these nail polish strips. In addition to creating a higher quality product at a lower price we are also constantly updating our inventory and designs to meet the latest styles and trends in nail fashion.
What I thought:
These are the nail strips that I received. I was not all the fond of the color or design, especially compared to the absolutely adorable ones located on their site, but I decided to give it a go anyway.
They did turn out pretty well. I did have an issue keeping the stripe straight but oh well. They were great for a quick and easy nail design! They stayed on for a couple of days, which was more than I had expected.
Here are some of my favorite sets from their website:
I love how bright and fun the majority of the designs are and I hope to be able to share more of them with you next time. Stay tuned for more nail products and designs on our Manicure Monday section!
You can find these and other great nail polish strips on their website here.
**Disclaimer** I was in no way paid, or obligated to give a positive review, or a review at all for this company. If you would like to read my full disclaimer for reviews you can find it here.