We're back with more great nail designs this week and we are very excited that this week we get to create a Revlon Brilliant Strength manicure!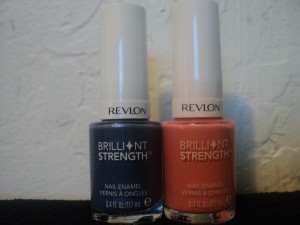 I have fallen in love with this nail polish! I received Brilliant Strength Intrigue and Provoke to review for you guys. I am not sure if I prefer these colors over the other colors in the collection, but they are still very pretty and I was excited to test them out. What had me so excited about these products was that not only do they have built in strengthening, but they also have a built in base and top coat!
I was very surprised at how well this polish glided on and how vibrant the color was! I hate when I get a polish that needs at least three coats of color and a base and top coat. My nails end up feeling very bulky and take forever to dry! With two little toddlers it is very difficult to let my nails dry enough with so many coats and my manicure always gets ruined. I love that I only need two coats with this polish and that I don't need to add all the extra polish just to keep it looking nice.
First up is Intrigue

This polish almost had full coverage in one coat! I added the second coat just to be sure. I just love how smooth the color itself looks. It was definitely a nice change from other polish.
It took a while to decide what I wanted to do with these colors. I recently got new nail stamping plates (that I will review for you guys later) and I decided that this polish would be a perfect polish for my first stamped nail art run! It took a couple tries to get the image to transfer and you can tell when I started to get the hang of the darn thing, but this polish really helped make the process easy!
Overall, I loved this polish. I wish I could have tried some other colors but these were still great and the orange will be great for some Halloween designs later on this month!
You can find Revlon's Brilliant Strength Nail Enamel on their website here, or you can find them a Revlon retailer near you!
Would you like to know when we have a new Manicure posted? Be sure to sign up for our Manicure Monday Newsletter here!
**Disclaimer** I was in no way paid, or obligated to give a positive review, or a review at all for this company. If you would like to read my full disclaimer for reviews you can find it here.