I have naturally wavy/curly hair, but I have chemically straightened it with a Keratin Treatment. Every so often I love to curl my hair and get those perfect curls or waves that I can't seem to get naturally. I have tried using hot curlers, regular curling irons and even the flat irons that curl your hair when used a certain way but they either don't work at all or take way too long! This next product not only gives you perfect curls, but can give you those curls fast and easy!
I cannot tell you how excited I was when I heard that I was going to review the Curl Secret. I had been seeing the commercials on TV and could not believe that someone finally came out with a product that curls your hair easily and without burning your fingers every curl! Yes, I will admit to you all that I on multiple occasions have burned my fingers trying to curl my hair. Since my hair is really thick I have to leave my hair in a curling iron for a long time and when my hands get tired my brain says to move my hand directly on the iron. Maybe it is just me, but because of this problem I don't curl my hair very often.
So what makes this product so much different from those horrible curling irons? For one, the iron is on the inside. You don't have to grab the end where the iron is because it has a perfect handle and pulls the hair in by itself, so there is no fighting with the awkward handle or fighting to get your hair in the right position to curl. Another great thing about this product is that the curl chamber is made of Tourmaline Ceramic so it does not fry your hair when you use it. I have VERY dry, brittle hair so this is a must for me. It also has low (365ºF) and high (400ºF) settings as well as 3 different timer settings(8 seconds for loose waves, 10 seconds for regular curls and 12 seconds for tight curls)!
Just like I'm sure you are, I was very nervous to try this product not only because I didn't think it would work but also because I was afraid that my hair would get caught inside the chamber and I would have to cut it out. Let me tell you, Conair though about pretty much everything when it comes to this device! If it detects that your hair as been caught inside or you have put too much hair inside it will beep and reverse to let your hair out gently. I may have lost a couple strands of hair using it, but that was only because of my own stupidity and luckily this device prevents most of it.
Here is a little video of my experience with the Conair Curl Secret:
As I said before, one reason I do not like traditional curling irons is how long it takes to curl my hair. I timed how long it took to curl my whole head of hair and it only took about 15 minutes. With it being my first time a good portion of this time was fumbling around trying to use it. I was very happy with not only the time but the results! My hair had perfect little ringlets and none of those odd creases like you get with curling irons. It truly has been a great experience with this product and I think everyone should have one!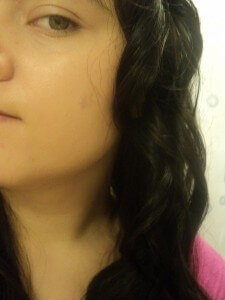 After using the Curl Secret a couple times I have come up with some tips for you!
1. Make sure to come/brush each section before you curl it. This will help prevent your hair getting caught!
2. If you have thick hair use the 12 second setting to get a good curl.
3. Spray a SMALL amount of hairspray to each strand before curling to help the curl stick.
I highly recommend this product! I think it is a great tool for every hair type! You can find The Curl Secret on Conair's website here, or at a retailer near you!
**Disclaimer** I was in no way paid, or obligated to give a positive review, or a review at all for this company. If you would like to read my full disclaimer for reviews you can find it here.