I can still remember when Axe products first came out and how all the guys were obsessed with having it! The more products they came out with the more I wished they had products for women. Last year they came out with the first For Her product which I reviewed for you guys. I loved it, which is why I was excited when I found out I was getting the new products for an Axe Anarchy For Her II review.
I was sent sent Axe Anarchy For Her and Axe Anarchy For Her II revitalizing shower gel. Since it had been so long since they had come out with the Anarchy For Her Body Spray I thought that they would never come out with more for her products, so this was quite a pleasant surprise.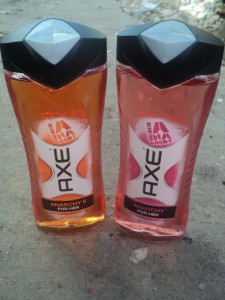 About Axe Anarchy For Her
A wickedly fresh fragrance with the scent of blackcurrant, jasmine and a touch of rose. Finishing with decadent coconut and rich woods scents, the flirty fragrance will keep her feeling rejuvenated all day long.
My thoughts
I LOVE Axe Anarchy For Her! It is by far one of my favorite fragrances and I am so happy that they finally added to the collection! All of the scents are perfect together. I will admit that there have been occasions where I have used my husbands Axe products not just because they smell great, but because they work great! A lot of the girly products you find that are cheap also wear cheaply so it is nice to have a scent that lasts all day. Not only that but this scent is meant to pair with Axe Anarchy For Him. Luckily for me it is also one of my husbands favorite scents, so we can both smell great without our scents clashing.
About Axe Anarchy For Her II
An electric combination of apple and mandarin, paired with a hint of jasmine petals. The fragrance finishes with succulent vanilla and sandalwood to keep her feeling confident and amped for anything.
My Thoughts
While I love this scent, I REALLY love the original scent more. Maybe it's just because I love pretty much anything with the scent of roses in it. However, this is the one my husband picked as his favorite so I use it pretty often just to make him happy.
It seems to be that a lot of the great smelling body washes I have tried are not as sudsy as I would like. Anarchy is great because it suds up to practically a foam which makes me feel like I am actually cleaning my skin. I just wish I had a lotion to match!
While I love the new Shower Gels I wish that they had made deodorant first. I think that I would be a lot happier and buy a lot more products if they just made deodorant. Hopefully they will make some soon!
You can find these and other great Axe products on their website here, or you can find a retailer near you here.
**Disclaimer** I was in no way paid, or obligated to give a positive review, or a review at all for this company. If you would like to read my full disclaimer for reviews you can find it here.