Before becoming a blogger, I had some serious issues with my nails! My nails and cuticles were so dry that they would constantly split and crack. I didn't feel like a real girl unless I had acrylics on, but now that I'm a full time mommy I don't have the time or the money to invest in getting my nails professionally done. So to say blogging has changed my life in many ways would be an understatement. I have learned about so many products that not only make me feel more like a woman, but that also make me feel better about myself!
One of the products that have truly helped me have beautiful nails happens to be Gel Nail Polish. Not only does it protect my nails from breaking and cracking, but it also helped me stop the nasty habit of biting my nails (mainly because I couldn't bite through the gel). After my nails started growing I decided that it was time to do some major research and make sure that my nails stay as healthy as possible. So today I am going to share with you a
great Gel Nail Kit
that can jump-start your way to healthy nails like it did for me!
I received Sally Hansen's Gel Manicure Starter Kit in Shell We Dance, which is a light pink color. I was very excited to try another gel kit! This particular kit had me really excited because of everything that it contains!
This kit includes the LED light, base coat, color coat, top coat, cleansing wipes, remover, a cuticle stick and a nail file. One thing that I was really excited about was the LED light included in this kit. The last one I had seemed like a good design but because of its size and shape made it incredible awkward to cure my nails. This light while it may seem awkward at first, is actually is very comfortable and easy to hold. The only issue that I had with this LED light was that the bulbs did run a little hot, but not hot enough to burn and technically your not supposed to touch them anyway (sometimes I am a little too curious).
The other gel kits that I have tried have included a base/top coat as one bottle, so I was also a little curious about if there was an actual difference between the base coat and the top coat included in this kit. The main reason I was pondering about this was because this kit did not include a primer which seemed a little off to me. So my first idea was to look at the ingredients. Instantly I could tell that there was a BIG difference between the two.
GEL BASE COAT INGREDIENTS:
ETHYL ACETATE, ALCOHOL DENAT., DI-HEMA TRIMETHYLHEXYL DICARBAMATE, BUTYL ACETATE, HEPTANE, NITROCELLULOSE, TOSYLAMIDE/EPOXY RESIN, HEMA, HYDROXYPROPYL METHACRYLATE, ISOBORNYL METHACRYLATE, ISOPROPYL ALCOHOL,TRIMETHYLPENTANYL DIISOBUTYRATE, POLYVINYL BUTYRAL, CAMPHOR, TRIMETHYLBENZOYL DIPHENYLPHOSPHINE OXIDE, HYDROXYCYCLOHEXYLPHENYL KETONE, BENZOPHENONE-1, DIMETHICONE, D&C VIOLET NO. 2 (CI 60725), D&C RED NO. 33 (CI 17200). -
FLAMMABLE
GEL TOP COAT INGREDIENTS:
DI-HEMA TRIMETHYLHEXYL DICARBAMATE, HEMA, HYDROXYPROPYL METHACRYLATE, TRIMETHYLBENZOYL DIPHENYLPHOSPHINE OXIDE, HYDROXYCYCLOHEXYL PHENYL KETONE, POLYSILICONE-13, D&C VIOLET NO. 2 (CI60725).
My first thought was that the base coat must have ingredients that help adhere the polish to your nails and keep it there for longer. When I put the base coat on it even looked different than the traditional base/top coat. I could tell that it was almost trying to fuse with my nails instead of just trying to cover them up. Which I thought was pretty awesome.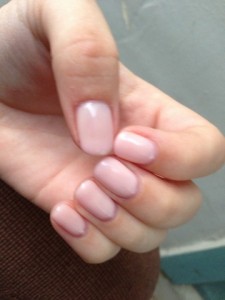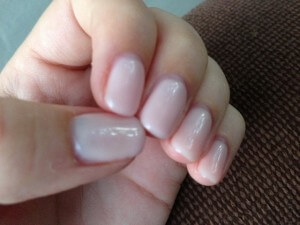 I was very happy with how my nails turned out! This kit seemed to make my nails more smooth than some of the other systems I have tried. Not only that, but they actually stayed on with no chipping and no discoloration! While some other gel companies stayed on some start to fade or peel on the ends. While the light pink is not my favorite I did love the kit and the color was beautiful! Even the color was a light color, it only required two coats unlike other light gels I have tried.
I definitely think that everyone should have a gel nail kit! You can find Sally Hansen's Gel Nail Starter Kit on their website here, or at a retailer near you.
What do you think about gel nails? Let us know in the comments below!
**Disclaimer** I was in no way paid, or obligated to give a positive review, or a review at all for this company. If you would like to read my full disclaimer for reviews you can find it here.