Since I started blogging, I have fallen in love with some wonderful makeup brands. One of those brands happens to be Laura Mercier. Everything I have tried from them has been of superior quality and I can always count on them for a beautiful look. Recently they sent me some products to review for you and I am proud to say that they do not disappoint!
I received the new addition to their primer line called Protect, as well as their Creme Smooth Foundation to try out.
Here is what Laura Mercier has to say about these two products: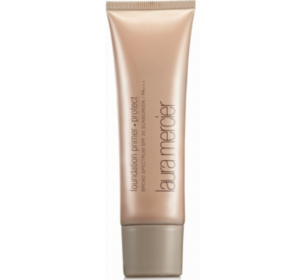 Prime the skin for makeup application, creating a smooth surface between skincare and makeup so skin texture looks smooth and makeup lasts and lasts. With the added benefits of UVB/UVA protection, this product creates the perfect canvas for makeup application.
Lightweight, oil-free creamy gel creates perfect canvas for makeup application

Primes and protects flawlessly; prepares face for Foundation, Tinted Moisturizer and makeup application

Provides UVB/UVA SPF 30 protection; helps prevent signs of premature aging, due to sun exposure

PA+++ provides high level protection against UVA rays

Features "Colour True Complex" to keep makeup looking fresh and colour-true all day

Conditions with Vitamins A & E

Perfect for all skin types, even sensitive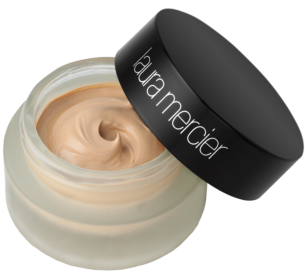 A modern, lightweight foundation that floats over skin without visibly settling into fine lines. The hydrating formula includes a multipeptide complex infused with Dermaxyl and advanced optical diffusers that help to visibly smooth out lines and wrinkles.
Perfect for normal to dry skin

Offers buildable coverage with a radiant, smooth finish

Available in 12 shades across a range of skin tones

Non-comedogenic

1.0 oz./30g
What I think:
Primer- Protect
Since this would be my first time playing with a foundation primer I was unsure of what to expect. The only thing I have ever used that was close to this would either be an eyelid primer or a bb cream. At first I was a little worried because as you can see, the formula is a little thin. I just didn't think it would smooth out the surface of my skin as well as it the package says.
After using it a few times I was quite impressed with how well it works. I love that this primer is spf 30! I am probably the worst when it comes to putting on sunscreen or really anything to protect my skin from the sun. However, I will admit that when buying makeup one of the first things that I look for is something that will protect my face from the sun. Now I just need to work on protecting the rest of my body and I will be set!
Creme Smooth Foundation- Warm Ivory
I was very excited to review this foundation! I love Laura Mercier Foundations and this one is definitely my new favorite! It is super smooth, and covers wonderfully. I have combination skin so I need something that is pretty moisturizing while not being too heavy. While this foundation seems thick at first it thins out really well while still giving me the coverage I need. I also love that this foundation is not orange. I seem to have a problem finding products that are in my shade but that do not turn my skin funky colors, so I was very happy with this foundation!
Here is what my face looks like without these two products:


I love the way these two products come together. The primer makes my skin really smooth and helps with the application of the foundation. Because of the primer I was able to stretch the foundation that much further and I could not believe how little I was using. Without the primer I would need at least twice as much foundation! Not only that but the primer helps keep your makeup intact throughout the day and makes it just that much more manageable! I hate spending hours in front of the mirror just to apply makeup and then have it wear off in a matter of minutes. So I am VERY happy with these products and will be using foundation primer from now on!
I highly recommend these products to any girl looking for a flawless face without needing to use tons of products! You can find these and other great products from Laura Mercier on their website
here
.
**Disclaimer** I was in no way paid, or obligated to give a positive review, or a review at all for this company. If you would like to read my full disclaimer for reviews you can find it
here
.