You may not know this, but I am not a huge fan of subscription boxes. Mainly because almost every box I have tried has had at least one item that I either didn't like, or every so often I would just get a dud. I hate the idea of paying for a box of stuff every month that I will probably never use. Recently I came across a company that has completely changed my point of view on subscription boxes and I am very close to becoming a subscriber myself! I was lucky enough to receive the first edition Black Box from Cult Cosmetics!
I have been getting really obsessed with nail art and anything that has to do with it. Which is why you have been seeing so many nail posts lately! Now that my nails are no longer stubs I can review these products without being embarrassed or without making the products look bad. I fell in love with Cult Cosmetics as soon as I saw it.
Here is the box I received.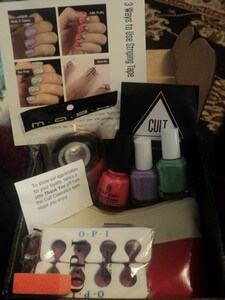 The August Black Box came with 3 colors of polish and one nail tool as promised! The colors I received were China Glaze "Surfin' For Boys", Essie "First Timer" and last but not least Essie "Full Steam Ahead". I love how bright all the colors are! Orange and green are not usually my colors of choice but altogether these colors look amazing! This box also came with M.A.S.H Stripping Tape, which was pretty exciting to me because I have never used actual stripping tape before! I was so excited about using these products and I could already feel the creative juices flowing.
I was VERY impressed with the way this box was packaged! I have heard and experienced nail polish explosions in boxes when they could have been easily prevented. Cult Cosmetics not only sent each polish individually wrapped, but they also sent the polish in it's own bag that way if anything did happen to the polish it wouldn't spread to the rest of the box. I loved this and was very happy when I opened it.
Then is was time to get to work! There are a lot of things you can do with stripping tape and I chose two of those ways for this review. First I chose to use the stripping tape as part of the design.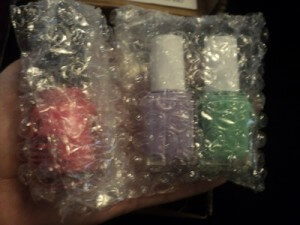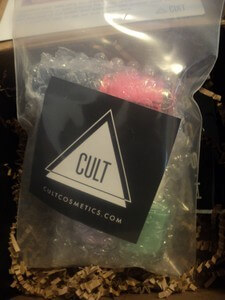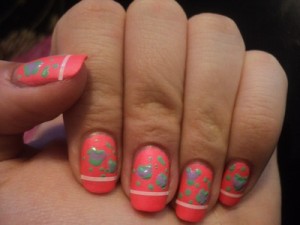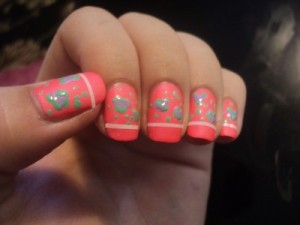 This one didn't turn out quite the way that I had planned. I was trying to re-do a design I had done before with gel polish, but quickly realized that this was NOT gel polish. The design I was going for was a heart cheetah print design, but it ended up looking just like a regular cheetah print with weird shapes. Oh well, I still thought it was cute! The polish itself was a little awkward for this one. The China Glaze was a little runny and both the Essie polishes were a little too thick. Luckily, I knew of a trick to try on the next design!
Next I decided to use the stripping tape to make the design. This one I think turned out a lot better, as I had let each bottle soak in warm water to get them to loosen up a bit. It worked like a charm! This time the only issue I had was that the purple seemed to be a little see through but I got it all figured out and it worked perfectly!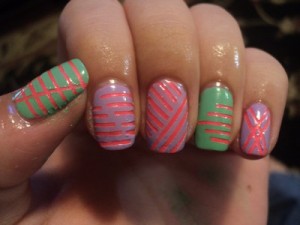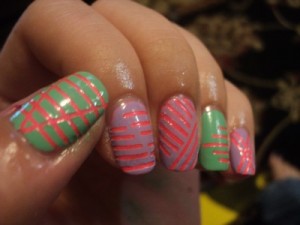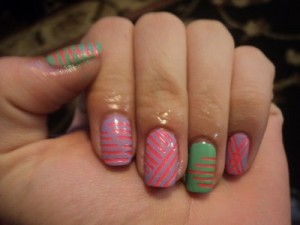 I really loved this design and will probably do it again in the future. It was super easy to so with the stripping tape and the colors are great together! I think that Black Box is a wonderful subscription program as it gives everyone the tools they need to create beautiful nails at home!
In this particular box they also sent a small gift! They sent a little red and beige OPI bag with some more nail goodies inside. It really feels great to be an appreciated customer and this company knows how to make you feel great!
Right now as part of their launch Cult Cosmetics is offering your first Black Box at 50% off! You can find Cult and this great deal on their website here.
**Disclaimer** I was in no way paid, or obligated to give a positive review, or a review at all for this company. If you would like to read my full disclaimer for reviews you can find it here.