One of the things I love to review most is makeup. I used to think that pretty much all makeup was the same until I started blogging and was introduced to the makeup world. I still don't think I will ever spend $100 on a foundation, but I have learned that really cheap makeup can be really cheap. Paying a little bit more for makeup generally gives you a much better product that not only looks much better, but lasts a lot longer too! Sure some are the exception to this rule but most aren't. So I am always happy to share with you guys the makeup that I find that may not be the cheapest out there, but is inexpensive and totally worth it! I believe Mally Beauty products are one of those brands that is totally worth it!
I was able to receive their
City Chick Smokey Eye Kit
in "Plum Chelsea,"
Age Rebel Shadow Stick Duo
in "Smokey Quarts/Emerald," and their
Ginormous Mascara
. I was so happy that all the colors blend together perfectly so I could create tons of new looks from just a couple products.
My absolute favorite of the bunch was the Smokey Eye Kit. Of course it was in purple, which makes me love it that much more! The kit comes with three different shades of eye shadow, eyeliner, and it even comes with a built in primer! I love that it comes with its own primer so that I don't have to carry an extra thing along with it. Especially lately I have been very picky about my eye makeup. For me my favorites in my collection are very pigmented, have at least some shimmer or sparkle, and must last longer than 5 minutes. Anything that does not stay put either gets thrown out or given to someone else. I am proud to report that this shadow has all three!
From their stock photo you can't really see how great the shadows are. It doesn't show them sparkle, I know you guys want to see the sparkles so I took some closer pictures with my own camera to share with you.
I also took some swatches for you guys to see!
I was really surprised with how soft the shadows were, and how easy they were to apply. I also love how shimmery the shadows are. The eyeliner went on really smooth, and is easily used for a more sultry look as it is not the darkest over the shadow (you can see more of what I am talking about at the end of the review when I show you the look I created). The liner stick itself is very thin so it makes it easy to apply thin lines.
My second favorite product would have to be the Shadow Sticks.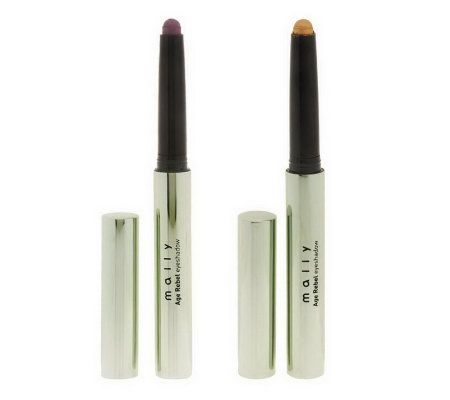 Like the shadows they are very shimmery.
I was really worried that they would look funky or apply chalky like a white shadow stick I have from another company but they glided onto my skin and looked great too!
At first I thought that I would hate the Emerald. Not because of the product, but because I am not a fan of green. I actually really love this green, and I love to use the both of them with other colors and products. They are great for blending and they look great! What I love most about them is that they not only stay on for a long time (mine stayed on overnight when I forgot to take my makeup off) but they do not crease or leave funny lines. I love to use these when I want to wear makeup but don't have time to do a lot.
Last but not least is the Ginormous Mascara.
I absolutely LOVE the brush for this mascara. It works wonders for my lashes!
I love how it separates each lash, and that it doesn't leave clumps behind. My only issue with this mascara is that it's not waterproof. My eyes tend to water a lot so by the end of the day my mascara is ruined. Even so, it does last longer than most non-waterproof mascaras and I still love to wear it because it still makes my lashes look amazing! Hopefully they will make a waterproof version later on!
I love these products, and I love how versatile they are. I can wear the colors with just about anything for any occasion. Not only that but the colors do not fade which is a real plus! I will definitely be ordering more Mally Beauty products, especially more shadow sticks! They are truly amazing!
Here is the look I made using my new Mally Beauty products!
You can find Mally Beauty on their website here, or you can check them out on QVC.
Have you used Mally Beauty products before? Let us know your favorite in the comments below!

**Disclaimer** I was in no way paid, or obligated to give a positive review, or a review at all for this company. If you would like to read my full disclaimer for reviews you can find it here .