Last year we did a review for some wonderful snacks from Newman's Own Organics and we are back to show you some more great products from them!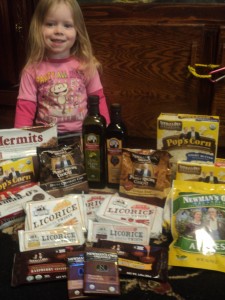 As you can see they made one very happy baby! She refused to let me take the picture without her! I got to try out a lot of different things and my family was able to help out, which was great!
About Newman's Own Organics:
Newman's Own Organics was established as a division of Newman's Own in 1993, and became a separate company in late 2001. The sale of Newman's Own Organics products generates money for the Newman's Own Foundation to give away. Since 1982 Paul Newman and the Newman's Own Foundation have donated more than $350 million dollars to educational and charitable organizations worldwide.
What I thought:
First up is their great Organic Chocolates! I received their Mocha Milk Chocolate and their Milk Chocolate. While I like chocolate I am not super obsessed with it as some people are. Sure, I love to have a good piece of chocolate every once in a while but I mainly will only eat the great chocolate and won't settle for a really cheap kind. This chocolate is incredibly smooth and always leaves me wanting another package. I have been in love with the Mocha Milk Chocolate since my last review and was very excited to try it again. I love that it does not have a weird taste like some Organic products and I love that it is healthier!
Next is their Family Recipe Cookies. These cookies are great! They really taste like they were made from a family recipe! I ended up "sharing" these with my Dad and he ended up eating most of them. I received Double Chocolate Chip and Ginger Snap, which were both amazing!
The last time I tried these Chocolate cups they were amazing! This time I received Dark Chocolate Peanut Butter and Dark Chocolate Caramel. I do not really like dark chocolate so I gave these to my mom ( LOVES dark chocolate) and she loved them! I do love that they not only have peanut butter but the caramel as well. I am a huge fan of chocolate and caramel and these cups always seem to have the right flavor balance.
Who doesn't love these types of cookies? I received Original, and Vanilla Newman-O's. The Original had a strange after taste but the Vanilla cookies were AMAZING! They are my new favorite cookies! They are more of a vanilla bean flavor, but they are absolutely amazing and I think everyone should try them!
My husband and Brother-in-law are huge fans of popcorn and eat it multiple times a week. While they did not love Pop's Corn they said it was okay, however I did enjoy them but that could just be because I knew that they were more healthy for me than regular pop corn. So if you are looking for the healthy alternative this is a great pick!
We also received their Dried Apples. I was a little worried about these not being eaten (I am not a fan of the texture), but my daughter picked these right off the bat and they were gone by the next day. They are not brown like some other dried apples and actually tasted great! I was very impressed and so were my girls!
Hermits sounded absolutely amazing! When I opened the package I was a little disappointed. They almost looked like brownies with sugar on top. Of course I knew that they weren't but I don't really care for brownies so I was turned off. My youngest however was in love with these and had one every night until they were gone. They tasted great, I just couldn't couldn't get over the texture.
My favorite of the snacks is and always will be the Sour Licorice! I swear I could eat these all day and not care about the world! They remind me of old fashioned licorice, but with a twist! They are not super sour which is great, but they have just the right amount of tang. I think that everyone should try these as I have not found anyone who doesn't like them!
I was also able to snag their Olive Oil and Balsamic Vinegar! I am a huge fan of Olive Oil and use is as often as I can as a substitute for Vegetable Oil because it is so much healthier! Before this, I have only used the two as a dip for french bread but now I know that it does so much more! I have added it to so many recipes and it has made them all so much better. This particular Balsamic Vinegar has more of a sweet smell than others I have used and the quality is just far more superior! If you use either of these products I suggest getting them from Newman's Own Organics as they are the best I have ever used and they have so many uses!
Overall I highly suggest these products to anyone that is looking for great organic products, or really anyone looking for great products in general! You can find Newman's Own Organics on their website here or find a store near you here.
Giveaway!
Enter to win Newman's Own Organics Olive Oil, Balsamic Vinegar, Strawberry Sour Licorice, and a Mocha Milk Chocolate bar.
**Disclaimer** I was in no way paid, or obligated to give a positive review, or a review at all for this company. If you would like to read my full disclaimer for reviews you can find it here.